'RHOM' Star Lisa Hochstein Gets Vampire Facial – From Her Husband!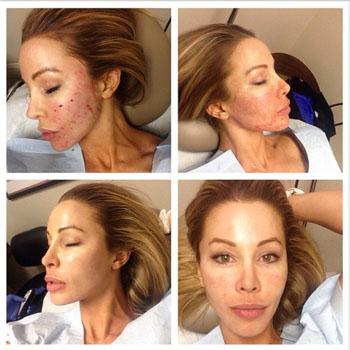 The Real Housewives of Miami 's Lisa Hochstein is getting bloody ridiculous.
The reality star shared some rather startling photos of her blood-spattered face, documenting her recent "vampire facial," which is all the rage among Hollywood starlets.
"Today at my husband's office I tried the "PRP" platelet rich plasma facial aka the vampire facial after hearing such an amazing reviews about it," she tweeted.
Article continues below advertisement
PHOTO: Not Beautiful Enough? Bar Rafaeli Gets $1,500 'Vampire Facial'
"Basically it gives you a beautiful plump youthful glow."
The Vampire Facelift draws blood from the patient's arm with a needle and separates the platelets into a platelet-rich plasma (PRP) using a centrifuge.
The plasma is then combined with Restylane or Juvederm, and then injected into the face to stimulate collagen production to create new skin and to remove fine lines and acne scars.
Sharing more youthful, fresh-faced photos from her procedure, Hochstein decided to slam her haters.
"Many of you had asked me to post a picture au natural, so here it is. No make up, no filter, no edit.
"To any of you haters that say I look older than my age (some have ever said over 40!), you are a clown. I look younger than most girls in their 20s. To the rest love you," she wrote.