Exclusive
'Jealous' Orlando Bloom Tells Ex-Girlfriend Kirsten Dunst Her New Man 'Is A Party Animal,' Source Reveals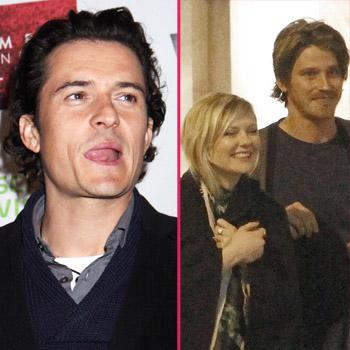 Orlando Bloom, who once had a fling with Kirsten Dunst, is slamming the actress' current boyfriend, Garrett Hedlund, as things between the pair get serious, RadarOnline.com has learned.
"Kirsten wants to marry Garrett and she was shocked when her Orlando reached out to her and ripped Garrett apart for his hard-partying, bad boy ways," a source said.
"Orlando was basically acting like a jealous boyfriend even though he hasn't been involved with Kirsten for years and Kirsten called him out on it!"
Article continues below advertisement
Dunst, 31, and Bloom, 37, dated briefly after they were co-stars in the 2005 movie Elizabethtown while the actor was on a break from Kate Bosworth.
In 2010, he married model Miranda Kerr, 30, mother to his son, Flynn. The couple announced their separation in 2013.
Meanwhile, Dunst hooked up with her On the Road co-star Hedlund, 29, in 2012 and they've been steady ever since.
"Kirsten's pals believe she's found a real soul mate in Garrett and her work and outlook on life have improved dramatically since they've been together," the source said.
"They wonder why Orlando is trying to spoil her good time."
According to the source, the reason is simple: jealousy!
"Orlando is in a bad place in his career and has seen roles that he wanted slip away to hunky younger actors like Garrett," the source said.
Hedlund may star in the stalled but still high profile Warner Bros project Akira, the live action American big screen adaptation of a Japanese animated cyberpunk action film.
"That was something Orlando would have liked to participate in, only to see Garrett win a leading role," the source explained.
"Orlando's meddling, catty behavior with Kirsten and Garrett is likely to continue until he has another lucky streak in his career . But Kirsten isn't letting anyone get between her and Garrett, least of all Orlando -- she hopes to walk down the aisle with him!" the source told Radar.