Exclusive
Kim Granatell Slams Her 'RHONJ' Nemesis Teresa Giudice For Donating Book Signing Money To Charity: 'Why Hasn't She Been Donating All Along? It's Disgusting!'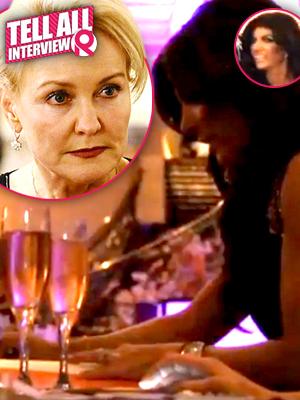 Teresa Giudice recently did a cash-only book signing and donated the proceeds to charity, as RadarOnline.com exclusively reported, but her Real Housewives of New Jersey nemesis Kim Granatell thinks Giudice's actions are just for show: Teresa is trying to act more pious in the public eye as an attempt to try and blind fans from the fact that she plead guilty to 41 counts of fraud.
"It's disgusting," Granatell exclusively told Radar. "Why hasn't she been donating all along?"
Article continues below advertisement
Granatell thought it was shameful that Giudice, 41, put her name all over her good works.
"I donate to charity and quite frankly, I'm anonymous about doing it," Granatell said. "I don't even let people know who the charity is. The charities that I love are for people who can't help their kids."
She continued, "So where's the charity been all along? All of sudden we have a charity?"
"We're going to try to reverse that role of being the convicted felon because we're facing jail time, so let's do anything that we can to show that 'I am a good person all of a sudden,'" Granatell said of Giudice's reasoning. "If I was facing jail time and I was her, I'd be cleaning streets and doing anything for the town."
Granatell thought the only reason that Giudice donated to charity was because she could possibly be spending time behind bars come sentencing for her federal cout case.
"If she's remorseful like she says she is, you want to say that at this point because you know your ass is going down," Granatell said. "Where's the remorse all along? That's her way of life. She doesn't know any other way of life."
Granatell also reasoned that Giudice was just trying to play her last hand of cards.
Article continues below advertisement
"She's very calculating," Granatell said.
So calculating, that Granatell thought that Giudice possibly kept up with her old tricks and might have taken some of the money that she claimed to donate to charity and kept it for herself.
"Yeah she donated it to charity," Granatell said. "I think it's called the Teresa charity. '$24.50 for me and $.50 for them.'"
And Granatell found it odd that Giudice only allowed fans to pay in cash.
How Housewives Stars Go From Home To Hot – See The Photos
"If you are donating it to charity, you don't ask for cash. You let people pay the way they can pay," she said.
"If you're asking for cash, it's because you don't want to show income and you're hiding," Granatell continued. "If you're in debt or whatever she is involved in, in terms of lawyer fees and all the nonsense and everybody she owes, you're not handing all of that to charity. You're taking some from the little pot here."
And if that's what Giudice did, Granatell doesn't approve.
"Her lawyers probably want to kick her ass from one end to another because let's face it, you're out there asking for cash, she's got her neck out on the line and he's trying to help her," Granatell concluded. "That's all I can say?"