Keeping Up With The Kardashian: Family Flees To Miami As Cops Reportedly Have New Lead In Thefts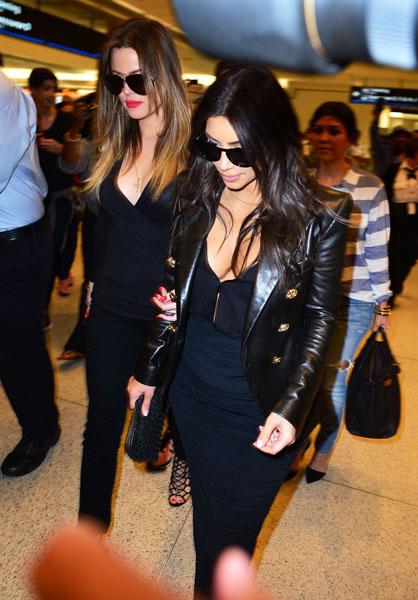 No one keeps up with the Kardashians like RadarOnline.com, and we've got all the latest on the comings and goings of reality TV's first family, during what's unfolding as a very eventful week -- and it's only Wednesday!
Kicking things off, Kim was involved in a collision in Beverly Hills Tuesday, but damage was minimal. Things were cordial as the other driver wound up hugging Kanye West's baby mama in the parking lot of the famed Beverly Hills Hotel as they traded info, according to online reports.
Article continues below advertisement
Kim might have been jarred from the crash, but there was no time to sulk for the busy reality star, who was quickly en route to LAX later in the day with her sisters Kourtney and Khloé for a trip to Miami, as well as Kourt's partner Scott Disick.
After they touched down in South Beach, hardworking Kim was spotted grabbing dinner later in the day with her bestie, PR guru Jonathan Cheban.
In related news, investigators in the the home robberies that cost Kourtney $50,000 in cash, and Khloé $250,000 now believe evidence points to a crew member for the family's reality TV show empire, online reports reveal. The key factors cops cite in coming to that hypothesis, is that there were no signs of forced entry; and the prescient selection of loot to steal couldn't have been made by someone without access to the homes, and
knowledge of where certain things were kept. As we previously reported, Kourtney initially said she thought the the theft was the result of an inside job, after she received a large sum of cash for a personal appearance.
Stay with RadarOnline.com for all the latest on the Kardashians.