Kathy Griffin Puts Demi Lovato On The D List--As The Biggest Celebrity 'Douche'!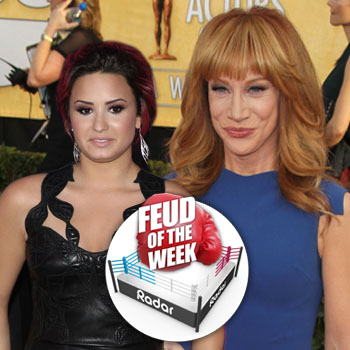 Kathy Griffin has put Demi Lovato on the D list--for being the biggest celebrity douche!
When a fan asked the comedian during a Twitter chat on Monday to name the "biggest douche celebrity" she ever met, Griffin responded, "Probably Demi Lovato."
The former My Life On The D List star, 53, elaborated that the singer/actress, 21, "should calm the f down about Lady Gaga getting barfed on."
Lovato criticized Gaga, 27, for recently having artist Millie Brown vomit on her during a performance in Austin, Texas. The former X Factor judge said she believed Gaga was glamorizing eating disorders such as bulimia.
Article continues below advertisement
Lovato is sensitive about the issue because she suffered from eating disorders as a teen--but Gaga claimed it was just performance art.
And now funny lady Griffin is also slamming Lovato for being overly sensitive!