Exclusive
D-Day For Kanye West In Alleged Paparrazzo Attack, Set To Enter Plea TODAY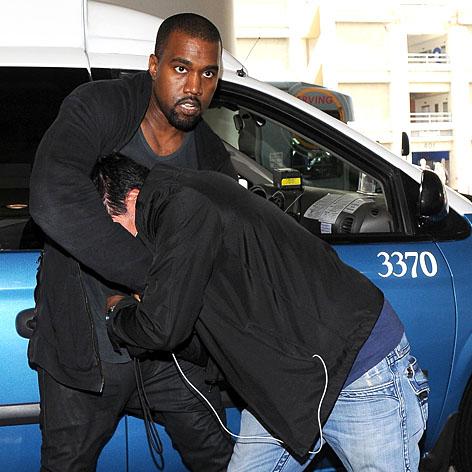 UPDATE 2:41 p.m. PT: West pled no contest for misdemeanor battery on the photographer and was ordered to attend 24 anger management therapy sessions and perform 250 hours of community service. He wasn't in court for the proceedings.
It's decision day for Kanye West's criminal battery case as the case will either be set for trial today in Los Angeles, or the Yeezus singer will formally enter a plea and the photographer and his attorney, Gloria Allred​ will attend the proceedings, RadarOnline.com is reporting.
Article continues below advertisement
Kardashian's baby daddy allegedly flipped out on the paparazzo as he was leaving the airport with a bodyguard and the pap's injuries were so bad that paramedics were called to the scene.
Kanye "shoved the photog to the ground and yelled at him after trying to take a few snaps," the photo agency claimed at the time.
"Kanye came out of the terminal and attacked the videographer by allegedly grabbing his shoulders and punched him. The paramedics were called to the scene and the victim was rushed to the hospital."
Indications seem to point to a plea deal being reached since Allred and the photographer will be attending the hearing at the LAX Airport Courthouse, and according to a press release released by the attorney, "the videographer will be present today in court to give his victim impact statement if West enters a plea.
They Really Did Say It! 50 Outrageous Kardashian Quotes
"The videographer and his attorney, Gloria Allred, will hold a news conference outside the courthouse after the sentencing or after the case is set for trial. Ms. Allred has also filed a civil law suit against West on behalf of the videographer. West is not required to be present in court, although he has a right to be there."