Gee Whiz! Justin Bieber Urinates For Cop In Just-Released Surveillance Video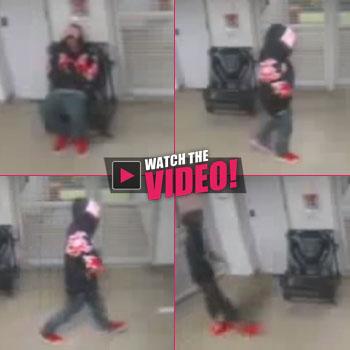 We've seen or heard about Justin Bieber's urine-related antics more times than we'd care to remember, but this time, at least it's in the name of the law.
A new clip of the "Baby" singer, released by police in Miami, shows the singer relieving himself for the purposes of a urine sample to submit to cops after his Jan. 23 arrest in connection with DUI and drag racing.
Watch the video on RadarOnline.com
Article continues below advertisement
In one part of the clip, the 20-year-old's penis is blocked by a box, a revision Miami-Dade County Judge William Altfield -- saying that the Canadian crooner's "expectation of privacy should stay with him" behind bars -- demanded in conjunction with its' public release. Bieber can be seen being given a cup by an officer, then handing it back after he was finished.
As we previously reported, Bieber's had a few urine-related incident over the past year, as he made news relieving himself into a mop bucket at a New York restaurant last summer, and writing his initials with his urine stream in Snowmass, Col. in January.
Bieber, who's entered a plea of not guilty in the case, which is slated to hit court docket next week for a status hearing.
For all the latest developments surrounding Bieber, keep it right here on Radar.