Exclusive
A (Hollywood) Dog's Life: Jennifer Aniston Pampers Her Pooches With Anti-Aging Water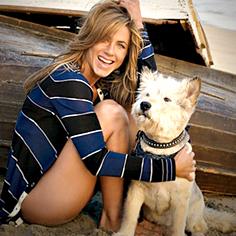 Hollywood is known for its obsession with youth and now Jennifer Aniston is giving anti-aging water to her DOGS, RadarOnline.com has learned.
The former Friends star, known for her lucrative endorsement deal with Smartwater, loves and uses the product, a source told RadarOnline.com — but when it comes to the dogs she has with fiance Justin Theroux, it's a different story.
"Jen has bought into Hollywood's latest anti-aging water trend, 'Kangen Water,' a low alkaline anti-aging water that A-listers get delivered to their homes," the insider said.
Article continues below advertisement
"But the twist is that Jen doesn't drink it herself. She gives this boutique water, which runs about two dollars a bottle, to their dogs because she and Justin don't want them to age as quickly as Jen's dog Norman, who died a few years ago."
Noted animal lover and Marley & Me star Aniston was devastated when Norman, a Welsh corgi mix, passed away at age 15.
"He's my baby boy," she once said of the dog who was her constant companion — while boyfriends came and went!
The Craziest & Most Outrageous Celebrity Rumors — What's True, What's Not?
Now that Aniston, 45, is living with Theroux, 42, they are raising a white shepherd mix named Dolly and a pit bull mix named Sophie, whom the couple rescued from a shelter.
Although many scoff at claims that Kangen water eliminates acidity in the body and can cure obesity, arthritis, high blood pressure, and even cancer, Hollywood has embraced it. And Aniston is hoping it will be the fountain of youth for her best friends, the source said.