Exclusive
One 'Monster' Of A Competition! Charlize Theron Plans To Compete With Jennifer Aniston As A Big Screen Comedienne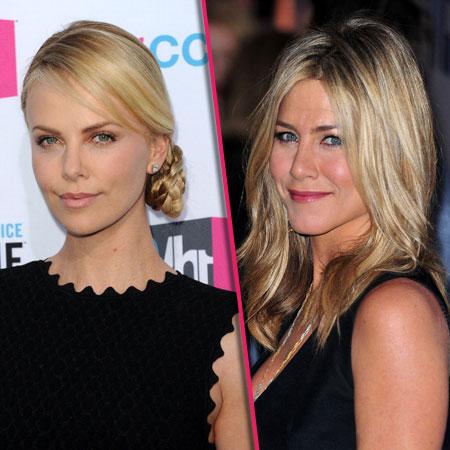 It's 'Monster' no more for Charlize Theron, who is plowing ahead with a plan to reinvent herself as a major comedy actress, RadarOnline.com has learned.
And the move will put her in direct competition with America's comedy sweetheart, Jennifer Aniston!
"Charlize knows she can be funny, but she seldom gets to show it on screen and she's determined to change that," a Hollywood source revealed.
"Doing comedies will give Charlize's career a whole new life, but this will put her in direct competition with Jennifer."
Article continues below advertisement
The elegant blonde actress, 38, is best known for her Oscar-winning role as depraved serial killer Aileen Wuornos in the 2003 film Monster.
"It's more than a decade later, but casting people still think of Charlize only for ultra serious roles, and she'd like to do make a change and do something lighter," the source noted.
"So she has begun a friendship with Tina Fey with the expressed purpose of convincing her to conceive a project in which they can both star," the source said.
Ex-Saturday Night Live and 30 Rock writer and actress Fey is the hottest female funny lady in Hollywood, and the source confided, "Charlize is very focused about getting a vehicle going with Tina, who has resisted taking on extra movie work since becoming a mom, but Charlize can be very convincing and the two women seem to like each other well enough so far.
"Working together, Charlize and Tina could give Jennifer, as well as the celebrated women behind the hit comedy Bridesmaids, a run for their money," the source predicted.