Exclusive
When One Is NOT Enough: 'Real Housewife Of New York' Carole Radziwill Wanted An 'Open Relationship,' Ex-Boyfriend Charges!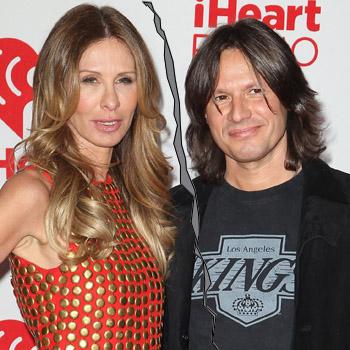 The Real Housewives of New York star Carole Radziwill quietly split from her rocker boyfriend Russ Irwin last February and now, speaking exclusively to RadarOnline.com about their romance, he reveals what ultimately led to their tumultuous breakup.
Irwin, who has been on the road touring with Aerosmith, Sting and Bryan Adams for the past 17 years, said that he wanted to marry Radziwill after dating on-again-off-again for three years – but she rejected the idea.
Article continues below advertisement
"When I was with Carole, I truly loved her and wanted to be with her, but it got to a tipping point. We wanted different things. It was obvious it wasn't going to last," Irwin exclusively told Radar.
Recalling the day he brought up marriage, Irwin confessed: "I told Carole, 'I'm in love with you. I want to settle down, get married and have a family – and I want to do it with you.' But her response was, 'I never want to get married again.' It's sad because we had such a special bond."
The Aerosmith rocker went on to discuss his doomed courtship with Radziwill.
"She wanted an open relationship, which I NEVER wanted. It's ironic," he laughed. "She wanted to date other people. She wanted her independence and didn't want to be tied down to someone she had to check in with every day."
Irwin admitted he was willing to move and change his life to be with her, but she shut down all talk about their future together.
Article continues below advertisement
"She and I could have made it work, but I think she was really just afraid of being hurt again. Every time we got more intimate, she found a way to sabotage the relationship," he revealed.
Irwin turned to writing an album to get over the breakup.
"I suppose her catharsis was writing her book A Widow's Guide to Sex and Dating. Mine was writing an album, in particular, the song 'So Close to Heaven,'" he revealed.
"The one lyric 'I'd give up this song to get back to you,' reflects how I felt about her. When you're on the road, you sacrifice a family life for your career. So when I was with Carole, I truly loved her and wanted to start a family with her. I would have made sacrifices to be with her, but ultimately, it didn't work out," the rocker revealed.
Despite their split, Irwin is remaining cordial with his ex.
"I support her and care about her very much. I wish her nothing but the best," he said.