Frenemies No More! Cameron Diaz Forgives Sofia Coppolla For 'Lost In Translation' Scene Widely Thought To Mock Her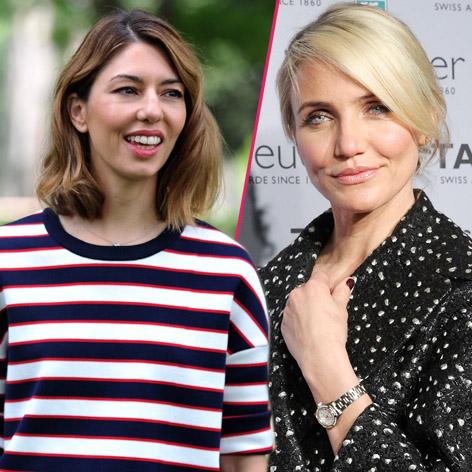 Lost in Translation was released more than ten years ago, but the film is still having an effect on Hollywood -- specifically, on Cameron Diaz. At the time, Anna Faris' ditzy blonde character in director Sofia Coppola's film was widely interpreted as being based on Diaz, as a kind of retaliation for her alleged flirtation with Coppola's husband, Spike Jonze. It's only now, RadarOnline.com has learned, that Diaz has forgiven her former friend Coppola for the supposed slight!
Article continues below advertisement
"Sofia and Cameron have had an incredibly difficult relationship since 1999, the year Sofia married Spike," a source close to Diaz says. "it only got worse when the film came out and it became pretty well-known that part of the movie was based on their real-life feud."
In the movie, Faris plays a dumb blonde actress who flirts with the husband of the intellectual lead character, portrayed by Scarlett Johansson and based on Coppola herself.
Coppola has insisted that Diaz wasn't her muse, telling the Daily Beast "The actress was based on a bunch of people, just that type. I could probably name eight people that she was based on, just that bubbly, extroverted blonde that you see on talk shows...It wasn't a slight at anyone in particular."
But it still made things tense between her and Diaz, says the source -- until now.
"There has been a thaw in the relationship between Sofia and Cameron in recent months," the insider says. "They had drinks this summer and cleared the air, possibly even paving the way for a future collaboration."
Article continues below advertisement
Oddly enough, the source says that it was the pair's mutual friend, Kirsten Dunst, who got them talking again. Says the source, Dunst, who starred in Coppola's Virgin Suicides and Marie Antoinette, "felt that after all these years, it was time they buried the hatchet."
Probably helping the situation, Coppola has since split with Jonze and is happily married to rock star Thomas Mars of Phoenix.
But despite her truce with Coppolla, for Diaz, the scene still seems to sting, according to the source.
"Cameron still refuses to talk to Anna," the insider says. "And she has never publicly addressed the movie scenes in question. It's an off-limits topic."