Brandi Glanville Needs To 'Stop Calling Me A Whore!' Ex-Eddie Cibrian Mistress Slams Housewife For 'Setting Bad Example' For Her Kids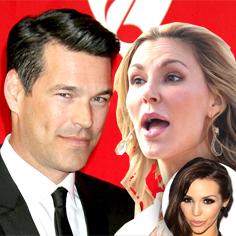 Eddie Cibrian's ex-mistress and Vanderpump Rules star Scheana Marie isn't going down without a fight.
In an exclusive interview with RadarOnline.com, she's slamming Brandi Glanville for being a bully after the Real Housewives Of Beverly Hills star went on obscenity-laced rant about the SUR waitress during a recent episode, saying: "Who gives a f—k about a f—king whore!"
"So, I'm a whore because I was lied to eight years ago by your d-----bag ex-husband? But you can go out and have your tampon string and coochie hanging out, and I'm the whore?" Marie exclusively told Radar, referring to the night Glanville partied, stumbled and lost part of her dress during a boozy night out in Hollywood.
Article continues below advertisement
"I don't even know the definition of a whore if that's me and not her," Marie said. "It's so confusing to me. I don't agree with her behavior. I can't wrap my head around it."
Noting that Glanville's boozy behavior is "only a click away" on the Internet, she advised the mom of two to set a better example for her kids.
"She should try to class it up a little bit… Be a good mother to your children and don't just keep trashing someone on the Internet and using foul language. It's setting a bad example for your kids," she urged.
Marie, who was one of Cibrian's hookups while Glanville was pregnant with their son, went on to slam the RHOBH star for using her to stay relevant.
"Now that she's successful and has two books out, she needs to embrace that and enjoy it," Marie said.
"I'm so sick of her bring up the past. It's like get a new storyline!"