'Scum' Brandi Glanville Under Fire For 'Disgusting' Tweet About Lisa Vanderpump 'Barbecuing A Baby'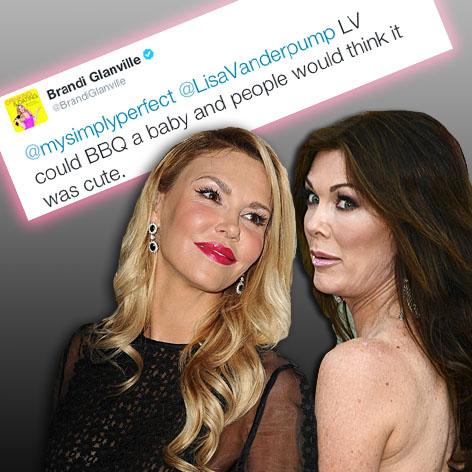 Lisa Vanderpump can't catch a break from her Real Housewives Of Beverly Hills costar Brandi Glanville and her BIG mouth.
Once again, Glanville attacked the British beauty, 53, on Twitter, in perhaps one of her most obnoxious tweets yet!
"@LisaVanderpump could BBQ a baby and people would think it was cute," Glanville wrote on Tuesday evening.
Vanderpump hadn't yet respond to the vicious tweet, but the restaurateur's fans came to her defense, slamming Glanville for her comment.
Article continues below advertisement
"Holy crap...you're a b---h and your jealousy of Lisa is palpable ( big word, look it up)," one fan tweeted.
The Team Vanderpump tweets continued to piled in. "WTF is wrong with you? Who tweets a comment like that? Disgusting!" ; "Brandi you're scum! Lisa was not the one joking about molestation, you're a real PIG."
One fan even questioned Glanville's parenting skills, urging someone to put in a call to The Division of Family and Children Services (DFCS).
"You cannot b serious. Ur a mom? Who let's this woman keep her children?? #callDFCS," the fan wrote.
As RadarOnline.com previously reported, Glanville has sought to take down her co-star with months of allegations regarding deportation and bankruptcy – all of which Vanderpump has adamantly denied.