Exclusive
More Than Just Good Looks! Suki Waterhouse Shocked To Find Out Boyfriend Bradley Cooper Is Smart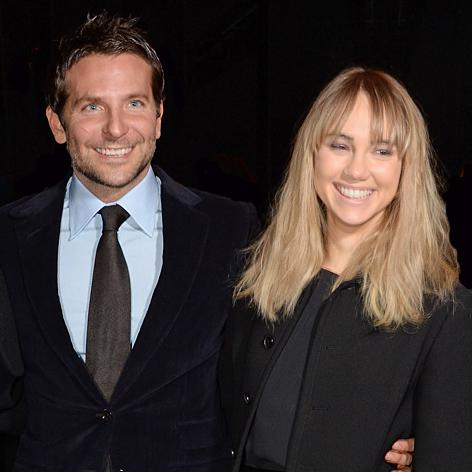 Suki Waterhouse's biggest shock in dating Bradley Cooper has been finding out the American Hustle actor isn't just a pretty face — he's a smarty-pants too!
The British model has told pals she's amazed "at how how intelligent he is," a source exclusively told RadarOnline.com.
"She was ready to write him off as another hunky dumb actor, but Bradley really surprised her with his fluency in French and the intense pile of reading material he has beside his bed," the source added.
Article continues below advertisement
"He also always carries a backpack of very intellectual books with him to stave off boredom."
Cooper, 39, and Waterhouse, 22, met a year ago at the Elle Style Awards in London and she recently gushed to Rollacoaster magazine about how her boyfriend is "a ridiculously good dancer… We make a pretty good duo."
But he loves to read more than party, the source said, which hasn't always pleased previous girlfriends.
"It's what put off Jennifer Lopez when they dated very briefly," the source revealed.
"Bradley is actually an obsessive intellectual and a nerd in his private life."
Last summer, photographers captured Cooper and Waterhouse hanging out in a Paris park. While Cooper read a book, Waterhouse looked bored.
But she perked up when her boyfriend started reading his tome to her!
"There's a big age difference between them, but Suki adores Brad and after winning over his mom's heart she's hoping for a ring on her finger," the source said.
"He's so different from the men she usually meets in the modeling world. Suki loves that Brad's smart as well as sexy. He can't do anything wrong in her eyes."