Me, Copycat? Ariana Grande Slams Allegations She Stole Lyrics For Mega-Hit Song 'The Way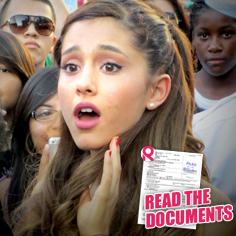 Nickelodeon star and singer Ariana Grande is firing back at the claims she stole her hit single "The Way," which spent 26 weeks on the Billboard Hot 100 chart this year, claiming she wrote the song all on her own, RadarOnline.com is exclusively reporting.
Grande, 20, filed documents in federal court responding to the copyright infringement lawsuit filed by Minder Music, who claimed she infringed on the song "Troglodyte," which was originally released by the 1970s disco group The Jimmy Castor Bunch.
Article continues below advertisement
Minder Music, a UK entity which owns rights to songs written and recorded by the band, sued claiming that Grande's "The Way" uses substantially similar phrases as 'Troglodyte."
The song featured the phrase: "What we're gonna do right here is go back, way back, back into time."
But in the new legal documents, Grande claims she didn't infringe on ANY copyright.
Whole she does admit that her song includes the phrase "What we gotta do right here is go back, back into time," the pop star denies that she copied the lyrics.
MORE ON:
Celebrity Justice
Further, she admits she never asked for permission to use parts of the song "Troglodyte" because there was no obligation on her part to do so.
She also fired back at the allegation by Minder that they own part of her song and charged that Minder cannot sue over said phrase because one cannot copyright a basic phrase like that.
The pop star has asked a judge to deny their request for an injunction, stopping her from selling the song and wants the lawsuit dismissed. She has requested that Minder pay for all her legal bills.