Do You Believe In Miracles, Part 2! U.S.A. Stuns Russia In Olympics Ice Hockey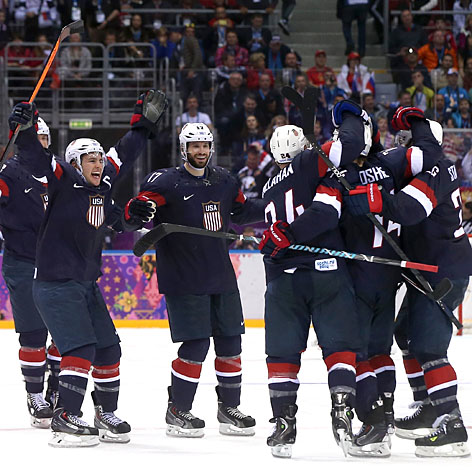 To many in the stands it felt like 1980's Miracle on Ice all over again.
The United States beat Russia 3-2 in ice hockey Saturday, before a crowd of nearly 12,000, almost equally divided between fans from both countries.
Unlike 1980, when the American Winter Olympics hockey team was made up of amateur college players, the 2014 roster is heavily populated by NHL pros, including the stand-out of today's match, T.J. Oshie of the St. Louis Blues.
Article continues below advertisement
Oshie scored four times in the shoot out that ended the game.
Even though this win likely won't be turned into a movie like the 1980 story was, the U.S. team's professional experience didn't make the players any less intense or any less excited with the win.
Said USA Today sports writer Kevin Allen, "There might not have been a more heated exchange between a Russian and American since President Kennedy exchanged words with Nikita Khruschev during the Cuban Missile crisis."