Exclusive
Your Lawsuit Stinks! Perfume Company Wants Snooki's 'Baseless' $6M Suit Thrown Out Of Court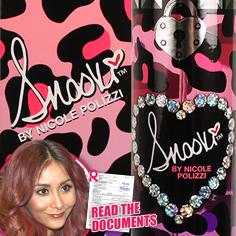 These days, GTL stands for Gym, Tan, Litigation as far as Nicole "Snooki" Polizzi is concerned.
The former Jersey Shore star filed a $6 million lawsuit against perfume company Excell Brands last year over claims they ripped off her signature fragrance for their own scent. But now, the perfume company is striking back, RadarOnline.com has exclusively learned, with a motion to dismiss her "baseless" complaint.
Article continues below advertisement
Excell's perfume "Snazzy Woman" is packaged in a box that brands it "Our version of 'Snooki' by Nicole Polizzi." Snooki's suit claimed that the similarly-colored packaging was a blatant rip-off.
But Excell filed a brief asking the judge to throw out Polizzi's claim on December 11, 2013 in New Jersey. According to court documents obtained by Radar, they cite several reasons why her lawsuit allegedly has no weight.
EXCLUSIVE: Read The Court Documents As Perfume Company Moves To Have Snooki's 'Baseless' $6M Suit Tossed
According to Excell, "offering a similar-smelling and less-expensive version of her perfume is a practice which is entirely permissible" in New York and across the country. They cite other similarly low-cost imitations of Calvin Klein, Chanel, and Estee Lauder perfumes as an example.
In addition, the court documents argue, their use of the word "Snooki" is not slogan infringement because it's just Snooki's name, not a brand slogan.
Finally, they outright dismiss Polizzi's claim that the woman featured on the packaging for "Snazzy Woman" is an attempt at portraying her own immediately recognizable likeness. According to Excell, they had an employee pose for the artwork.
In conclusion, "Excell respectfully requests that the Court grant its motion to dismiss the Plaintiff's claims."