Show Me The Money! Shia LaBeouf Wins $800,000 Payback From Uncle In Manhattan Court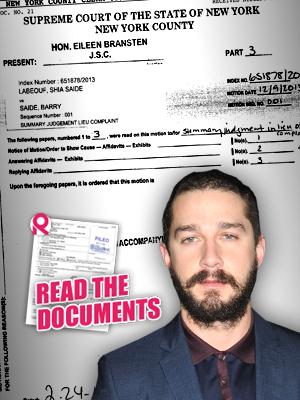 A judge ruled on in Manhattan on Wednesday that Shia LaBeouf's uncle must pay him back $800,000 from a 2009 loan, RadarOnline.com has learned.
Supreme Court Justice Eileen Bransten ruled that the "Eagle Eye" actor's uncle, Barry Saide, must repay him the six-figure loan he borrowed.
According to the New York Daily News, Saide and LaBeouf entered into an agreement where his uncle agreed to repay the loan in 15 installments of $53,333 — but never did.
Article continues below advertisement
After failing to settle, Bransten finally ordered Saide to repay the entire amount owed plus interest and attorney fees.
The 2009 loan was reportedly used after the recession destroyed Saide's employment agency business.