Losing It: Shia LaBeouf Makes Red Carpet Statement With Paper Bag Over His Head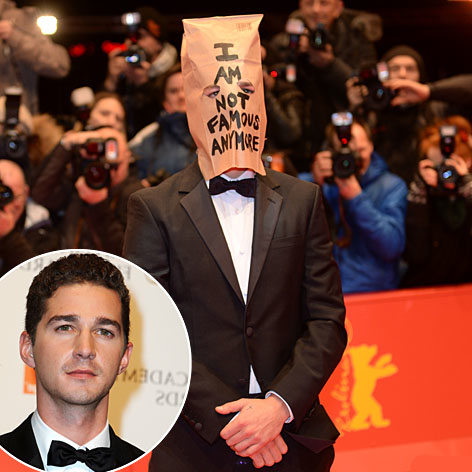 Someone has definitely lost the plot.
Hours after storming out of a press conference for his new movie, Nymphomaniac, at the Berlin Film Festival, Shia LaBeouf walked the red carpet for the premiere wearing a paper bag over his head.
Talk about a literal fashion statement..."I Am Not Famous Anymore" was written in large letters on the bag.
Two holes were cut out for his eyes so at least LaBeouf knew where to turn for the photographers shouting his name.
Article continues below advertisement
LaBeouf's behavior is growing more bizarre by the day.
As RadarOnline.com reported, he nearly got into a fight with fans who just wanted to take his photo on Saturday. Then on Sunday afternoon, he walked out of a press conference intended to promote his movie after talking about sardines.
He was dressed in dirty, ill-fitting clothes for the press conference but changed into a dapper tuxedo for the premiere.
Is this all an act? Or has LaBeouf really gone over the edge?
Tell us what you think in Comments.