A-List Gridlock At Shape And Men's Fitness Kickoff Party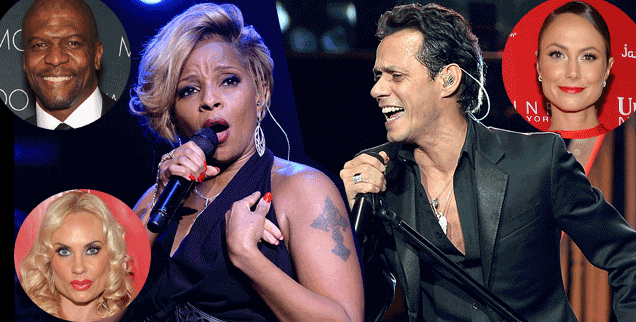 Article continues below advertisement
Blige opened the party with a powerful 45-minute set of hits and covers including "Real Love" and "No More Drama" that earned a standing ovation from guests Laura Prepon, Ice T and Katrina Bowden.
Morning show host Gayle King sang along and even filmed the performances on her phone.
John Legend captivated the audience with of a cover of Bruce Springsteen's "Dancing in the Dark" and dedicated his romantic ballad, "All of Me" to his beautiful wife Chrissy Teigen, who looked on from the crowd with friend Stacy Keibler. Both women danced and laughed throughout the evening and posed for some photos, one of which they both later posted to their Instagram accounts.
Finally, superstar Marc Anthony closed the show with an hour-long set that had the capacity crowd getting out of their seats to salsa. Models Chanel Iman and Heidy De la Rosa even danced in between the tables in the front row.
Peter Facinelli was a late arrival, breezing through during a break in the evening. Super model Petra Nemcova also conducted a live auction to benefit the Happy Hearts Fund, a non-profit foundation dedicated to rebuilding schools and helping children recover after natural disasters.
Article continues below advertisement
Movado also participated during the charity auction by presenting each celebrity performer with a sophisticated Datron automatic watch. The performers autographed the gift boxes and the sets were auctioned off to raise money for each performer's charity of choice.
Celebrity guests especially enjoyed the custom Jamba Juice Smoothie Bar, which was a huge draw for the health and fitness-minded crowd. A-listers were lining up to taste the featured Kale-rribean Passion, Apples 'n Greens, and Orange Carrot Fusion Jamba Juice drinks. Guests were also offered Lemon Ginger Shots—a fan favorite—from Jamba Juice ambassadors mingling through the crowd.
When they were ready for a spiked delight, celebrities and stars sipped an Ultimate Cosmo, a fun and flavorful drink concoction supplied by Ultimate Nutrition one of the premiere fitness and sports nutrition manufacturers in the world. Another main attraction of the gala was the breathtaking new Rolls Royce Wraith. Partiers stopped in their tracks to admire the bold silhouette and contemporary design of the infamous manufacturer's newest release.
Article continues below advertisement
What's a kickoff party without snacks? Between stops at each sponsor's station, guests and stars stopped back by their tables to nibble samples of Wonderful Pistachios. Attendees could even try a custom pistachio martini from the well-known brand.
A bottle of Tabasco Original Red Sauce was placed at every table setting for anyone looking for some extra spice. One of those takers? Chrissy Teigen, known foodie and recent newlywed, enthusiastically picked up a bottle on on the way to her table with husband--and performer that night--John Legend.
After all the drinking, snacking, and singing, patrons braced themselves for the winter weather by rehydrating with a brand new tube of Baby Lips lip balm from Maybelline.
With so many samples to try and products to test, guests and stars had a hard time choosing what to do next.
"There are so many fun things going on, it's hard to pick. I just came from Howard Stern's birthday party, and now I'm here waiting for John Legend to perform," said event host Katie Couric. "It's incredible!"
Article continues below advertisement
Couric arrived with her fiancé John Molner and when we asked what it meant for her to be to be able to spend the evening with him, he quickly jumped in and joked, "I'm very curious what the answer is." But Couric just smiled.
"It's so fun to be able to soak in all New York has to offer with someone you love," she said.
Other sponsors of the evening included Starbucks, New York Style (bagel chips), and Manhattan Motor Cars.
Celebrities and stars at the party walked away with stellar gifts bags full of products from Ultimate Nutrition, Jamba Juice, NY Style Bagel Chips, Tabasco, Starbucks, Wonderful Pistachios, Maybelline and more.​