Exclusive
Sandra Bullock Terrified Of Running Into Hunky Ex-Beau Ryan Gosling Because He 'Broke Her Heart Years Ago'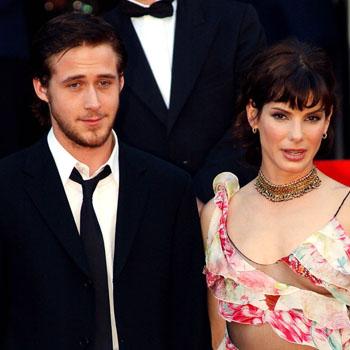 Gravity star Sandra Bullock is still brokenhearted over her split with ex-boyfriend Ryan Gosling that she fears a run-in with the hunky actor, RadarOnline.com has exclusively learned.
The Oscar winner is nominated again for best actress but "is nervous about coming face-to-face with Ryan this awards season because he really broke her heart years ago," a source close to the actress told Radar.
Bullock, 49, and Gosling, 33, had a brief romance from 2002-2003 after they met while co-starring in the movie Murder by Numbers.
Article continues below advertisement
And now, girl next door Sandy, who divorced husband Jesse James in 2010 after he cheated on her, fears having to re-live another bad breakup by running into Ryan.
Making matters worse, sources say Gosling is taking a break from his current girlfriend, Eva Mendes.
"Sandra is totally mortified about being around Ryan, even though she's the one who helped launch his career more than ten years ago," the source said.
"It's crazy, but the fact that he and Eva are taking a break from their romance has Sandy nervous. With everything she's been through with men, the last thing she needs is to have all that brought up again."
So, as the Academy Awards ceremony approaches, "Sandra has her fingers crossed that Ryan is a no-show on Oscar night, even though everyone on her team has told her to relax and that no one can even remember their romance," the source concluded.
"Everyone's moved on, but Sandy's the type to take things really to heart. If anyone hurts her, it's very hard for her to forgive and forget."