Salma Hayek's Brother Fatal Car Crash -- Drugs & Alcohol NOT Detected, Speed Likely Cause Of Crash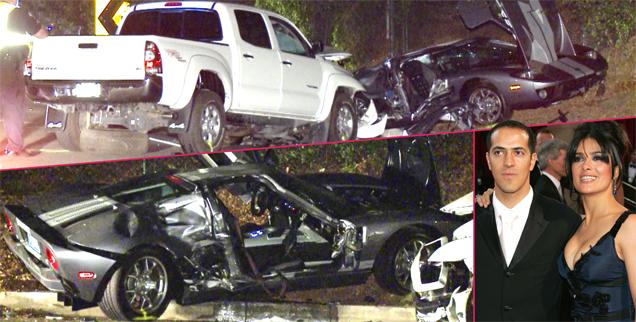 Drugs and alcohol are not suspected as being the cause of the fatal car crash which left Salma Hayek's younger brother Sami injured and another man dead in Bel Air, Calif., on Sunday, law enforcement sources have told RadarOnline.com.
Speed was likely the cause of the crash, they said, when Sami, 40, lost control of his 2006 Ford GT going east on Sunset Boulevard, heading into wrong way traffic and careened into a 2011 Toyota Tacoma pickup truck,.
Article continues below advertisement
Though he suffered a laceration on his head and broken ribs in the wake of the incident, another passenger, 43, was pronounced dead at the scene; he was later named as Grammy-award winner Ian Cuttler Sala, 43, who won the top honor for his art direction of Johnny Cash: The Legend.
"Drugs and alcohol weren't detected on Mr. Hayek at the scene of the crash," Los Angeles Police Department Detective Zachary Hutchins told Radar.
"Toxicology tests are pending, but it doesn't appear that drugs/alcohol were contributing factors. Speed does appear to be a contributing factor to the accident. Mr. Sala was wearing his seatbelt."
The 2006 Ford GT Sami was driving was a limited-production and has 600 horsepower and can go up to 205 mph.
The accident remains under investigation and no arrests have been made, yet.