Exclusive
The X Factor: Paulina Rubio's Ex-Husband Sues For Defamation & Emotional Stress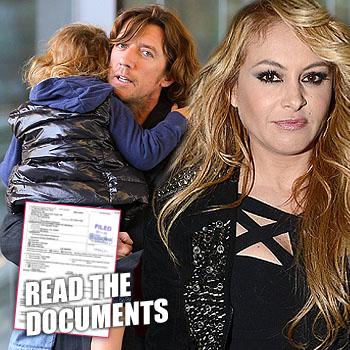 Paulina Rubio's ex-husband has filed new court documents in their never-ending divorce battle, and he's suing The X Factor judge for defamation and emotional stress, RadarOnline.com has exclusively learned.
Nicolas Vallejo-Nagera claims in the Jan. 21 Florida filing that Rubio has and continues to smear his name worldwide which has resulted in him being unemployed.
He claims she used her press contacts to ruin his reputation and painted him as a being a bad father, a gold digger, crook and drug addict.
Article continues below advertisement
Vallejo-Nagera claims his name has been slandered and he fears he will forever be without work.
While happily married to Rubio, Vallejo-Nagera says he abandoned all his businesses to please her and travel with her — and although once a successful businessman, now nobody will work with him.
Rubio married the public relations exec in 2007 and they welcomed a baby boy together in 2010.
The couple announced their split in 2012 and have been battling ever since.
According to the court documents, the financial settlement agreement they signed last year was thrown out because Vallejo-Nagera claims Rubio provided fraudulent numbers that had him receiving $6,725 a month in spousal support for three years — as such, he is demanding she be ordered to show her real financial information.
He is now seeking "an award of temporary, permanent, durational, rehabilitative, and bridge the gap alimony" that will equal the lifestyle he lived while married to Rubio.
Rubio's ex is also seeking damages for defamation and intentional infliction of emotional stress.