Exclusive
Mark Cuban Forced To Shut His Mouth -- Billionaire Slapped With Cease & Desist Over Disappearing Text Message App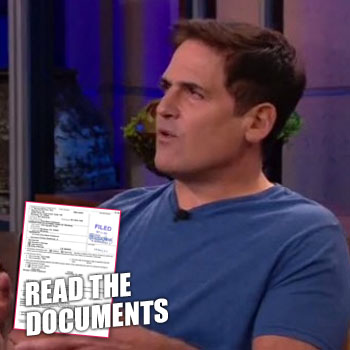 Businessman, investor and Dallas Mavericks owner Mark Cuban was caught falsely promoting one of his companies and slapped with a Cease and Desist legal letter, RadarOnline.com is exclusively reporting.
It all started when Cuban, 55, made an appearance on The Tonight Show with Jay Leno earlier this month, bragging about his new company Cyber Dust.
"A-Rod got in all kinds of trouble because of all these text messages that were left behind. And I had an issue with the SEC, my buddies and the government, where they were looking at my emails. So I came up with a product called Cyber Dust," Cuban said.
Article continues below advertisement
"So it's text messaging, but within 24 seconds after it's read, the message disappears. So that way you can talk to your agent, you can talk about your friends, you can talk about anything… I don't want to leave a digital footprint, so we came up with Cyber Dust.
"Once it's gone, it's gone."
The Cyber Dust website claimed to be the first of its kind, but according to Invisible Text LLC they are the first self-destructing messaging app — and they let the company know it by sending a Cease and Desist on Jan. 28.
"It has recently been brought to our attention that you are advertising your 'Cyber Dust' mobile texting application as 'the first self destructing messaging app.' This claim is both false and damaging to Invisible Text, LLC," the letter reads.
The letter demands that Cuban and Cyber Dust stop promoting their app as the first one of its kind of self-destruct — but the jab doesn't stop there.
"Although we typically assume that false advertisements were made innocently, we note that Cyber Dust's logo bears a striking resemblance to Invisible Text's logo," the legal letter states.
MORE ON:
Celebrity Justice
Article continues below advertisement
What do you suppose celebrities will use an app like this for? Sound off in comments below…