Exclusive
'Love & Hip Hop' Star Stevie J Served With Subpoena For Unpaid Child Support -- Rapper Still Owes Over $1 Million!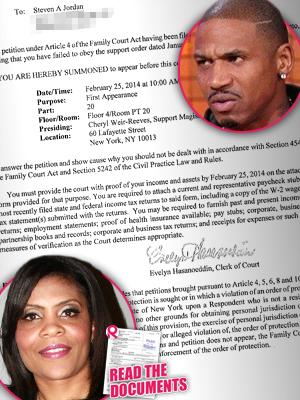 Love & Hip Hop star Stevie J was served with a subpoena on Feb. 13 to appear in a New York family court for unpaid child support to the mother of his two children, Carol Bennett, and RadarOnline.com has all the exclusive court documents and details.
According to the paperwork, Stevie — real name Steven Jordan — must appear in court on Feb. 25 because he has "failed to obey the support order dated January 10, 2012."
Article continues below advertisement
"This subpoena requires Steve J's appearance or an arrest warrant can be issued by the State of New York," Bennett's rep, Sibrena Stowe de Fernandez, told RadarOnline.com.
"This is not a joke!"
Stevie, 42, must provide the court with proof of his income and assets and show any paycheck stubs and income tax returns.
"You may be required to furnish past and present income tax returns; employment statements; proof of health insurance available; pay stubs; corporate, business or partnership books and records; corporate and business tax returns; and receipts for expenses or such other measures of verification as the Court determines appropriate," the docket states.
Stevie celebrated the grand opening of a new joint venture bar in Atlanta called Sleazy & Zino Bistro & Bar on Feb. 5, which is coincidentally where he was served with the subpoena.
As RadarOnline.com exclusively reported last year, Stevie owes a staggering $1.28 million in child support and over the course of 14 years, has only paid Bennett $132,220.30.
Read The Warrant For Stevie's Arrest
"Since the release of the story in October of last year, Mr. Jordan has not taken any serious steps to satisfy his unpaid child support obligation with our client," Stowe de Fernandez said.
"Make no mistake; this obligation has not been paid, but increases at the rate of $8,550 per month. We are going to take every step to ensure this obligation is satisfied, even if it means petitioning the court seize his television and music royalties, as well as his earnings generated from his new restaurant."
Do you think Stevie will ever pay up? Sound off in comments below…