Exclusive
'Hills' Heartbreak: Kristin Cavallari's Dad Slapped With Divorce From Her Stepmom Amid Claims He's A 'Sex-Crazed Cheat'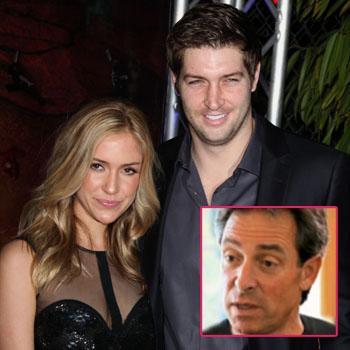 Kristin Cavallari is happily married to her Chicago Bears hubby Jay Cutler and the two have their second baby on the way, but RadarOnline.com has exclusively learned her father isn't having the same luck, because his second wife has filed for divorce.
In court documents obtained by Radar, Kristin's step-mother, Nicole King, filed for divorce from the Laguna Beach star's father on July 3, 2013 and claims they separated on June 25.
Article continues below advertisement
The separation came just six months after Radar's exclusive report that Dennis had been living a double life, allegedly cheating on Nicole with a mistress named Tracy Sill.
Filed in Orange County, Nicole asked for a dissolution of marriage citing irreconcilable differences — asking for both spousal support and attorney fees and costs. According to the petition, Nicole, 42, estimates her attorney fees to total $15,000 and is asking for the spousal support to be determined by a forensic accountant.
"I am currently employed as a Yoga teacher with Bikram Yoga Laguna Beach. I get paid $60 a class. My income varies depending on the availability of classes that I can teach," the documents read.
"Our income during the marriage was extremely high. Our lifestyle is reflective of the income that the Respondent earned being self-employed. It is my hope to hire a forensic accountant in order to help prepare a gross-adjusted net income available for support."
Article continues below advertisement
Nicole broke down her expenses, which estimates she needs roughly $21,646.75 per month — including $8,000 for rent, $1,062 for healthcare, $900 for groceries, $1,050 to eat out, $575 for utilities, $250 for her cell phone, $1,500 for clothes, $3,100 for entertainment, gifts and vacations, $1,369 in auto expenses and $1,172 in credit card bills.
Documents show Dennis to bring in about $17,000 per month in income. On Sept. 30, 2013 the court ordered Dennis to pay Nicole $5,302 a month until she gets remarried or passes away.
The divorce is still pending and a decision on attorneys fees has yet to be made. Dennis and Nicole were married on Oct. 18, 2003.