'Kitchen Nightmares' Most Hated Restaurant Down To One Employee, Owner Ordered Deported!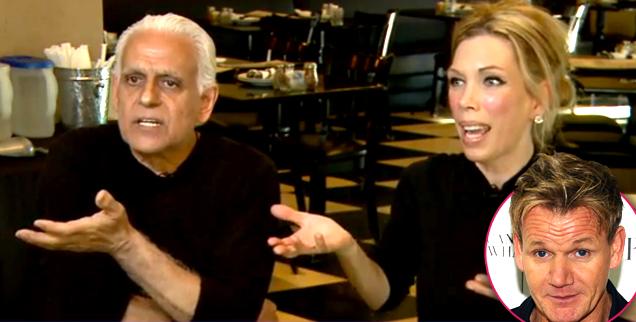 Kitchen Nightmares' most hated restaurant owners Amy and Samy Bouzaglo, of Amy's Baking Company in Arizona, continue to fight with the social media mob that attacks them online, but a new interview with the controversial couple reveals that's the least of their problems!
As RadarOnline.com reported last year after their first appearance on Gordon Ramsay's hit FOX show, Samy — a native Moroccan — was facing deportation due to a U.S. Immigration and Customs Enforcement case to revoke his residency status.
Article continues below advertisement
radar_embed service=brightcove src="http://c.brightcove.com/services/viewer/federated_f9?isVid=1&isUI=1" width="480" height="270" fv="omnitureAccountID=gpaper158&pageContentCategory=videonetwork&pageContentSubcategory=videonetwork&marketName=Phoenix&revSciSeg=&revSciZip=null&revSciAge=null&revSciGender=null&division=Newspaper&SSTSCode=gci-az-phoenix.com/video/news_Video_prestream&videoId=3218521647001&playerID=1659202266001&playerKey=AQ~~,AAAABvZFMzE~,IXjx0MpOF0p74gQ0oxWK0L1cZBcoHPoi&domain=embed&dynamicStreaming=true"
Article continues below advertisement
"Sometimes he doesn't come if he's sick, we can't force him. We're not going to break his leg because he's not coming to work."
According to the Bouzaglos, their new followup episode of Kitchen Nightmares was filmed last summer and the crew wasn't warmly welcomed.
"When I open the door they say, 'It's Kitchen Nightmares,' I say Kitchen Nightmares? What the f**k you want here?" Samy revealed.
"I say it, yes. I say it like this, yes."
Will you tune in to Amy's Baking Company's return to Kitchen Nightmares on Feb. 28?