Chronically Underpaid? Dr. Dre Sues Death Row Records For $3 Million Saying They've Stiffed Him Out Of Royalties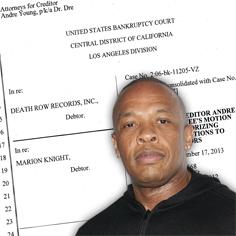 Rap great Dr. Dre is currently in a lawsuit in Los Angeles against his ex-record label Death Row Records, claiming the company has shorted him more than $3.05 million in royalties from sales of his work.
The "Nuthin' but a 'G' Thang" singer said the number comes from unpaid amounts of $676,444.44 for unpaid mechanical royalties; $1,200,386.57 in unpaid artist-producer royalties; and $1,179,913 in digital sales he has yet to collect on. (The third total stems from a judge's suggestion to the artist after he lost a 2010 trademark infringement suit.)
Article continues below advertisement
EXCLUSIVE: Read The Documents As Dr. Dre Sues Death Row Records For $3M
In legal docs, the Compton native, 48, also alludes to a discrepancy in the payments he received from the company, as he said they have yet to honor a bonus that would jump his revenues from Death Row Album sales from 18 percent to 20.
Notorious rap exec Suge Knight has not been in charge of the company since 2006, after he declared bankruptcy. Subsequently, the next owner, WIDEawake, sold some of the "Been There, Done That" rapper's songs online, paving the way for his current claims via a vis the digital sales.