Exclusive
Debbie Harry & 'Blondie' Band Members Sued By Ex-Manager, Accused Of Hiding $1.3 Million Deal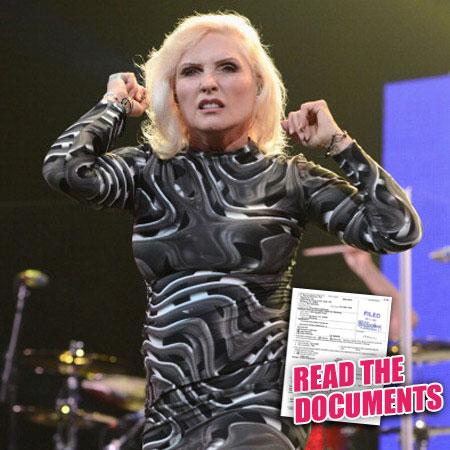 Lead singer Debbie Harry and other band members of Blondie have been slapped with a lawsuit by their former manager who claims the band is trying to screw them out of more than $150,000, and RadarOnline.com has all the exclusive details and documents.
Peter Leeds filed a lawsuit with the Supreme Court of New York on Aug. 23, 2013, in which he alleged Blondie attempted to defraud him over the years by hiding money make, including one deal for a whopping $1.3 million.
Article continues below advertisement
Leeds claims the group signed an agreement with him on May 24, 1979, that stated he would make commission on all profits executed from contracts before Feb. 9, 1985 and all "renewal, extension, substitution or modification" of such made.
Harry and Blondie breached the contract, he claims.
Leeds says that in 2012 the group made a deal to sell their copyrights to BMG for the sum of $1.3 million divided into two payments of $500,000 and $800,000, but that the deal was purposely hidden from him and not mentioned in his 2012 annual statement.
"Blondie has sought to hide commissionable income and avoid paying commissions owed to Mr. Leeds," the papers read.
"Blondie owes Mr. Leeds commission on the full $1.3 million, and both Blondie and BMG have breached their contractual obligations to report income and to pay commissions on the income to Leeds."
Leeds is suing for $62,500 based on the $500,000 payment and $100,000 based on the $800,000 payment, plus attorneys fees.
Harry and her Blondie bandmates responded to the lawsuit on Oct. 15, 2013, claiming Leeds isn't owed anything and they deny all his allegations.
The case is still pending in a New York court.