Casey Anthony Refuses To Answer Questions About Daughter Caylee's Disappearance During Deposition, Threatens To Walk Out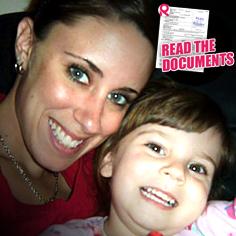 It was the first time Casey Anthony was placed under oath and asked questions about the death of her daughter, Caylee, but the 'Tot Mom' refused to answer any questions about the 2-year-old and threatened to leave the deposition if she was asked more questions about the tragic death of her child.
Zenaida Gonzalez is suing Anthony for defamation after Caylee went missing and she told a tale that her nanny named Zenaida Gonzalez had disappeared with her — but there was no such nanny and Gonzalez claims Anthony's lie ruined her life by tarnishing her name.
Article continues below advertisement
Caylee disappeared from Orlando, Fla. in August, 2008, and her skeletal remains were found four months later in the woods near her family's home.
Anthony was charged with homicide and the prosecution sought the death penalty, but on July 5, 2011, she was found not guilty and acquitted.
On Jan. 23, Anthony sat for a two hour deposition, and transcripts of it were formally filed in federal court on Tuesday.
According to the Orlando Sentinel, "Anthony refused to answer many questions, prompting Gonzalez's lawyers to ask a judge to compel her replies. A hearing on that motion is set for next week."
Anthony insisted she had met a woman named Zenaida Gonzalez in 2006, through friends, and she had babysat for Caylee once before.
Keith Mitnik, an attorney for Gonzalez, expressed skepticism of Anthony's claim that the nanny — who Anthony's defense attorney Jose Baez acknowledged was fictional at trial — was a real person.
MORE ON:
Celebrity Justice
Article continues below advertisement
"Now, is there any way in the world that you could suggest to me that I might find this person to see if she ever existed?" Mitnik asked Anthony.
Anthony replied: "I don't know if you could or not, sir."
When asked if Anthony had trouble telling the truth, she said, "No, sir, I do not."
But Baez told the jury in Caylee's murder trial that she did have a problem telling the truth, and often lied.
"So at the time you were making up the entire story about Zenaida having Caylee, where was Caylee?" Gonzalez's attorney asked Anthony.
"At the advice of counsel, I decline to answer any questions about my daughter. If you ask me again I will walk out of this room," she defiantly replied.
Anthony was grilled on her decision as to why she didn't just tell detectives that Caylee was dead, and her true whereabouts.
"That was my personal choice," Anthony said.
When asked, why, she replied, "I'm not going to answer that question."