Exclusive
'Bad Girls Club' Star Stephanie Rivera Reveals Breast Augmentation: 'I Wanted To Gain Self-Confidence, I Feel Sexier Than Ever!'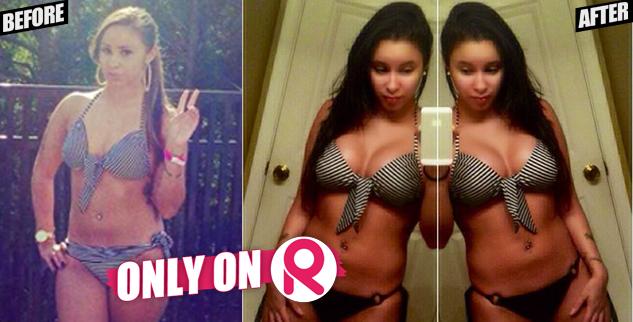 Article continues below advertisement
"I have always wanted a breast augmentation, for many years now. I have always battled with my weight shift as a young girl; one minute I'm really thick, and then the next minute I'm back to really skinny, so you can just imagine over the years how much of a toll it took on my breasts," Rivera told RadarOnline.com.
"I wanted to gain self-confidence. My motto has always been 'Follow your heart,' I believe that you should do whatever makes you happy. Never do it for the wrong reasons, do it because is what you want. So I followed my heart and went through with it."
Under the careful knife of leading plastic surgeon, Dr. Michael Salzhauer in Miami, Fla. -- a surgeon who was recommended by someone she met while filing BGC — Rivera paid for the plastic surgery on her credit card.
"While I was taping for my season of the Bad Girls Club Miami Season 11, there was a girl that I met out at a nightclub and I couldn't help myself but to just go up to her and compliment her body. She wasn't shy at all; she began telling me about Dr. Salzhauer," Rivera, 22, said.
Article continues below advertisement
"So I began to do my own research and liked what I saw. Once I did the consultation with him I knew that he was going to be my doctor, he was very professional and made me feel very comfortable (as well as his team). He knew exactly what I needed and understood what I wanted."
And Dr. Salzhauer echoed the statement.
"Stephanie Rivera was a pleasure to have as a patient. Very nice and down to earth. No attitude, just laid back--- the opposite of what one would think based on the Bad Girls Club persona," he told RadarOnline.com.
"I performed a silicone breast augmentation on her last month. She went from a medium 'B' cup to a very natural appearing 'C' cup. She's petite, so we didn't want to go over the top. She wanted a natural look, that gave her just a bit more boost. Something to allow her throw out her push-up bras and better fill out her dresses and bikinis."
But Rivera isn't stopping there. Next on her wish list? A butt lift!
"Next on her wish list is a Brazilian Butt Lift (BBL). This operation is currently the most popular trend in plastic surgery, especially in Miami and Los Angeles. I performed more than 350 BBL's in my practice in the last year alone," Dr. Salzhauer explained.
"Having my breast augmentation has given me the boost of self- confidence that I have always wanted,' Rivera said.
"I feel sexier than ever. I'm very thankful for the work that Dr. Salzhauer performed on me. I am very happy, and love how they look on me."