Where's Dean? Tori Spelling Takes 'Feverish' Son Finn To The Doctor Without Her Missing Husband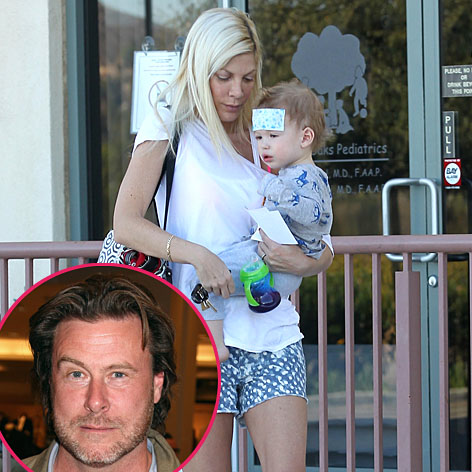 A clearly worried Tori Spelling carried her little boy, Finn, to see his pediatrician on Saturday, with daddy Dean McDermott nowhere in sight.
Tori had a cold pack on the 16-month-old toddler's forehead as they entered the doctor's office.
On leaving, she told a concerned fan that Finn had a fever and she was off to pick up medication that would hopefully bring it down.
Spelling and McDermott's live has been in turmoil since allegations of his cheating on his reality TV wife emerged.
Article continues below advertisement
As RadarOnline.com exclusively revealed, they were evicted from their last rental house and have moved into another -- although more expensive -- place a few minutes away.
Although Spelling is still wearing her wedding ring, she and Dean have only been seen together in public once in the last six weeks, and that was coming out of a building that houses marriage and family counselors.