Exclusive
Tori Spelling Moves Again To More Expensive Home & Abandons SUV At Previous House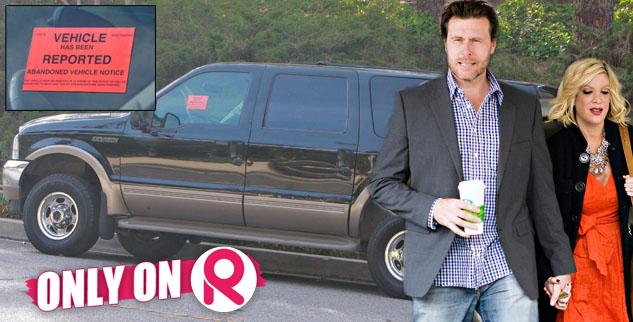 Tori Spelling's life is continuing to confound.
The former reality star and her husband, Dean McDermott, moved AGAIN last month and bizarrely abandoned one of their fully-loaded SUVs at the previous house, RadarOnline.com is exclusively reporting.
Spelling and McDermott , who are dealing with a cheating scandal on top of her claims that they're "broke," made a puzzling move on December 15.
After only nine months there, the couple and their four kids packed up and moved out of a house they'd been renting in L.A.'s Tarzana district for $7,000.
Article continues below advertisement
Their moving van only had to travel about four miles, to their new rental in Encino, a house that, according to its real estate flyer, is costing them $10,500 a month!
Stranger still is that they left behind one of their SUVs, parked on the street outside the Tarzana house. The Ford Excursion was left unlocked and contained four car seats and a DVD player.
As of Friday -- 19 days later -- it's been slapped with a "Abandoned Vehicle Notice" which gives the owner 72 hours to move the vehicle or have it booted or towed.
Tori has been spotted in her Cadillac Escalade several times since the move, and yesterday tweeted that she now has more than one million followers.
Maybe one of them will remind her to go back and get her other car!