Exclusive
The Case Against Octo-Mom: Money Trail From Self-Pleasure Porno Led To Felony Welfare Fraud Charges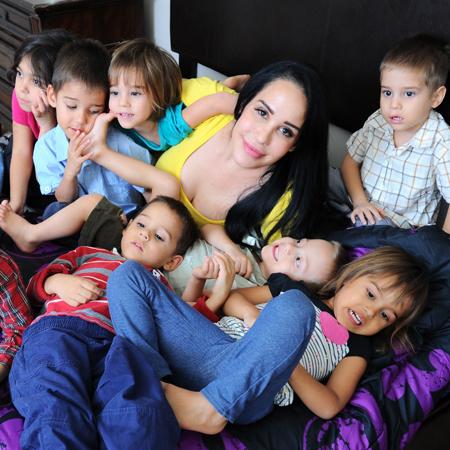 For Nadya "Octo-Mom" Suleman, porn kept her and her fourteen kids afloat — but it could be the thing that lands her in jail for up to six years.
At the center of the criminal probe — which led to her being charged on Monday with three felonies — WAS her adult film, Octo-Mom: Home Alone, RadarOnline.com has learned.
We're told investigators for the Los Angeles County Department of Welfare Fraud Prevention and Investigation (WFP&I), working for the Los Angeles County District Attorney's Office, seized financial records which revealed Suleman earned much more than allowable for her to legitimately collect welfare for herself and her brood.
Article continues below advertisement
In documents supplied to WFP&I and seen by Radar, Suleman earned at least $150,248.77 in 2012 alone.
Of that, $33,256.77 was for sales and streams of the adult flick.
What's more, we've learned investigators established the 38-year-old also received $58,680.00 from an Encino, Calif.-based organization called DD Entertainment LLC, while another firm forked over $57,499.00 for her services, according to 1099 documents provided to WFP&I.
This income was for Octo-Mom's appearance on HD Net's Celebridate, various image deals, interviews sold to media around the world, commercial appearances — and her appearance at a strip club in Florida, investigators uncovered.
A third organization, Cast & Crew Talent Services from Burbank, Calif. paid Octo-Mom a total of $813 to appear on the CW program H8R.
Legally, she was capped at pocketing $119,000 in a calendar year, as she was collecting more than $60,000 in welfare benefits, including food stamps, according to a source familiar with the investigation.
According to the Los Angeles County District Attorney's Office, Suleman failed to report nearly $30,000 in earnings while raking in the public assistance.
The D.A. charged Octo-Mom with two counts of perjury by false application and one count of aid by misrepresentation, which could land her in the slammer for a maximum of five years and eight months if convicted.