Sperm Bank Scandal: Utah Woman Discovers Convicted Kidnapper Is Her Real Father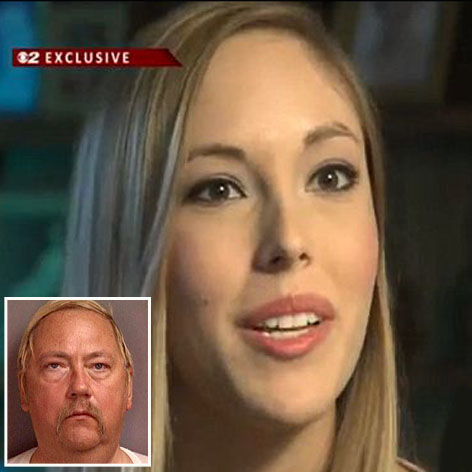 A 21-year-old blonde beauty has just had the shock of her life, discovering that her biological father is a convicted kidnapper who apparently switched his sperm with the intended dad's at a Utah fertility clinic.
Annie Branum, a college student, is now asking "Who Am I?"
After years of struggling to become pregnant, in 1991, Pam Branum and her husband underwent artificial insemination at a fertility clinic associated with the University of Utah, Reproductive Medical Technologies. They were thrilled with the beautiful daughter they had nine months later.
Article continues below advertisement
The family never thought much of it again until late last year when Pam decided to use a genealogical service for the "fun of it" to learn more about her ancestry and stumbled upon the fact that Annie and her husband her husband were not related!
"I was shaking," she told KUTV. She and her husband both began thinking the same thing, that there had been some mix up at the clinic.
The clinic closed years ago, so Pam went on her own search, using the DNA markers she had for whomever had really fathered Annie. That lead her to a woman who said her cousin, Thomas Lippert, had worked as a receptionist at the clinic, but he was now dead. Fortunately Lippert's 99-year-old mother was located and agreed to provide a DNA swab.
It proved without question that Lippert was Annie Branum's biological father.
Lippert, in turns out, was a convicted kidnapper! He also kept photos of numerous children around his desk. The Branum family now wonders if these were all Lippert's kids and if he intentionally switched samples.
Lippert died in 1997 and the clinic closed the following year, but there's deep concern that the Branums is not an isolated case.
The University of Utah has stepped in to help other families who are now wondering if Lippert fathered their children.
In a statement, university officials said:
"There are no remaining records from RMTI to prove the claim and the man in question has been deceased since 1997. Consequently, it is unknown how this incident might have happened. In addition, there is no evidence to indicate this situation extends beyond the case in question. We understand this information has been upsetting for the family and other clients of RMTI. We want to help alleviate this distress by providing professional genetic testing for RMTI clients who were treated between 1988 through 1994."