Beverly Hills Housewives Slam 'Tacky' Carlton Gebbia For Showing Up DRUNK To Kim Richards' Home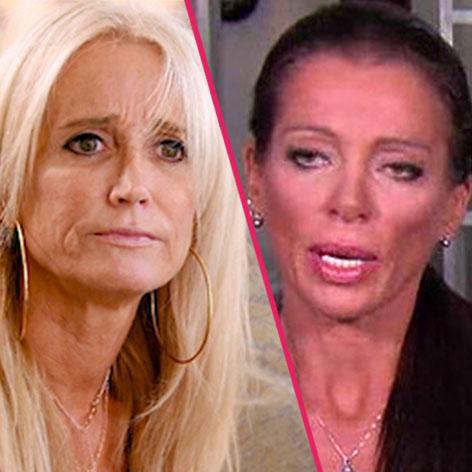 Real Housewives of Beverly Hills star Carlton Gebbia stirred up controversy when she showed up drunk and demanded alcohol at Kim Richards' home during Monday night's episode.
Kim, a recovering alcoholic, was shocked by Carlton's insensitivity.
"I was a bit surprised when Carlton asked for alcohol, and I felt a little on the spot. When she and the bartender came to me, I said, 'I don't keep alcohol in my house,' especially since it was a party for Kimberly who is underage I didn't think people would be expecting it.
Article continues below advertisement
"I ended up asking him if someone could go get some for her," Kim revealed in her Bravo blog.
Although Kim tried not to make a scene, her co-stars were very upset by Carlton's drunken antics.
"I thought it was very tacky for Carlton to show up slightly drunk... and to go fishing for booze when she knows Kim is a recovering alcoholic. You can drink in front of her -- she is strong and can handle it. But you don't go to her home to ask for alcohol," Joyce Giraud noted in her blog.
Kim's sister Kyle Richards wasn't happy either.
"Kim wasn't serving alcohol. While she attends events that have alcohol, I respect the fact that she doesn't serve it at home," Kyle said during the episode.
"I think when you're in her home, why would you be looking for it? That isn't appropriate."
After the episode aired, Carlton tried to apologize for her behavior on her Bravo blog.
"When it comes to alcohol, I am truly a light weight.. Before you condemn me, please understand I do have friends who are sober who host parties where they do serve alcohol -- and as far as I understand it from Kim herself, she's OK to be around it, as all of us have had a drink around her," Carlton explained.
"I sincerely apologize if I appear insensitive to Kim's plight or to anyone else for that matter who suffers the same devastating addiction and battle. It certainly was not my intention to be disrespectful," she added. "I'm not perfect."