Exclusive
Kym Whitley Says Adopted Son Was 'A Gift' From Young Mentor: 'This Was The Only Way She Could Repay Me'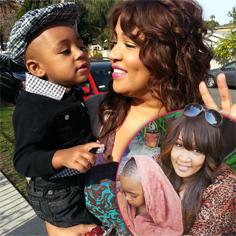 Comedian Kym Whitley's carefree lifestyle came to an abrupt halt with one phone call from the hospital: She had one hour to decide if she wanted a baby!
Speaking exclusively to RadarOnline.com, Whitley detailed the life-changing day she INSTANTLY became a mother – and the emotional message she received from Joshua's birth mother.
Back in January 2011, a young woman Whitley mentored told the hospital that she wanted Whitley to have her newborn son.
Article continues below advertisement
When the hospital called, the Raising Whitley star thought it was a joke!
"The woman on the phone said, 'We have a baby here for you' and I was like, 'What?! I didn't order a baby!'" Whitley told Radar.
After going back and forth about the sudden responsibilities, Whitley admitted: "I just hadn't stopped working long enough or found the right man and gotten married— or even realized the years had gone by so quickly. My parents encouraged me to take the leap of faith and become a mommy."
She gushed: "Adopting Joshua was one of the best decisions I ever made."
As for Joshua's birth mother, Whitley still stays in contact with her.
"In some weird way, I think she had the baby for me as a gift. I believe she felt that I'd done so much for her – and this was all she could do for me," Whitley said getting choked up.
"I recently received a heartfelt message from her. She is not regretful. She was just glad she could give me something for all the years I'd helped her. It made me cry! It was very, very beautiful," she added.
Joshua, now two and a half, is no longer a baby, and Whitley faces new challenges and milestones like potty training and Joshua's first swimming lessons as she balances her busy acting career.
"I believe God had this plan set out for me – and I am very grateful," she said.
Raising Whitley airs Saturday nights on OWN: Oprah Winfrey Network at 9PM ET/PT.