Exclusive
Kim's TV Wedding Redux! The Kardashian-West Nuptials WILL Be Filmed, Producers To Pay The Multi-Million Dollar Tab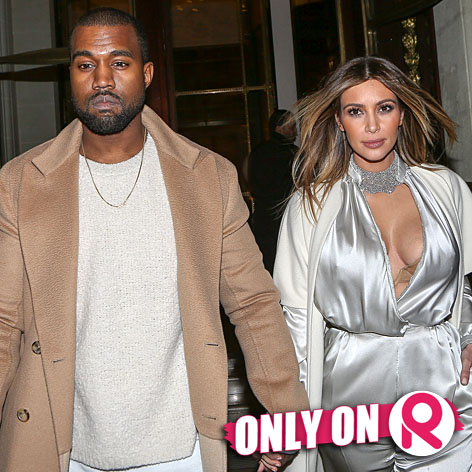 For her third trip down the aisle, Kim Kardashian will be a traditional June bride when she marries Kanye West in France, RadarOnline.com has exclusively learned.
The entire "fairytale" event WILL be filmed for Keeping Up with the Kardashians, a multi-million dollar affair where most of the costs will be covered by the producers behind their hit E! series.
"Kim has always wanted to be a June bride and she is finally going to get her wish," a source close to the couple revealed to Radar.
Article continues below advertisement
"Kim and Kanye have narrowed down the wedding location, which is being kept a secret at this point. It will be on the outskirts of Paris."
Added the insider, "Kim persuaded Kanye to let the cameras roll because E! will pick up most of the cost of the wedding and it's a lot easier for a network to deal with logistics of a foreign wedding than if it were just the two of them planning it."
The lovebirds won't have to worry about security, intrusive photographers or guests with cell phones, explained the source, because the producers will handle the logistics.
"Even though Kim's marriage to Kris (Humphries) was a disaster, she was very happy with how the wedding and reception turned out," said the insider.
"It was flawless. Both Kim and Kanye have very high expectations for their wedding. It will be an over-the-top affair and there will be pre-wedding festivities leading up to the big day for their guests. It'll be like a festival!"
It won't be at the Palace of Versailles, which denied Kimye's request to have their wedding at Marie Antoinette's former digs.
Said our source: "Kim and Kanye really wanted to get married at Versailles and were both hoping to persuade officials during their visit there... ultimately it backfired. It was still a firm no.
HOTOS: Unforgettable In Paris: Kim Kardashian Busts Out With Kanye West
"The couple is looking for something grand, but something that can offer privacy and security."