Unbe-weave-able! The Hairy Truth Behind Kim Kardashian's Shocking Bald Patches REVEALED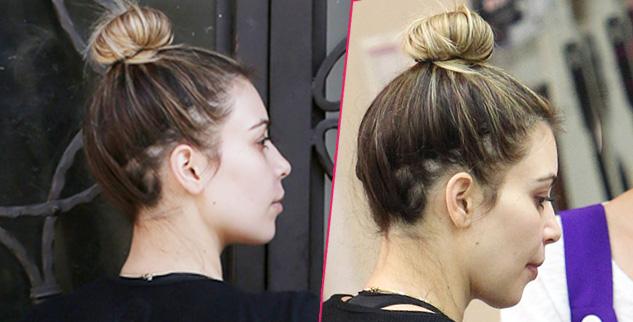 Kim Kardashian says she's already gotten her body back nearly seven months after giving birth to daughter North West. But what about her pre-baby mane? New candid photos of the Keeping Up With the Kardashians star suggest that she's relying on extensive weaves to cover up several bald patches, and an expert tells RadarOnline.com that her pregnancy hormones could be to blame.
"Birth and rapid weight loss are two factors that have triggered Kim's thinning hair and made her opt for hair extensions to boost her diminished hair volume," celebrity hair expert Tatiana Karelina tells RadarOnline.com exclusively.
Article continues below advertisement
"It is well known that … when you have the baby, most women find they seem to be losing a lot more hair than normal," the international hair extensions expert explains. "What with the rapid amount of weight Kim lost dieting in the months after the birth, this may have even accelerated the hair loss, creating sparser looking patches that we can clearly see along the hairline."
But opting for what appears to be a sewn-in weave may not have been the best choice, Karelina says.
"In spite of giving instant full, thick hair, weaves put extreme pressure on the hair and scalp," she says. "Often too heavy and tight, the pulling and weight of the weave can cause severe migraines and traction alopecia, which actually increases hair loss, rather than helping to recover healthy hair growth."
"I would not recommend that Kim keep that weave in her hair," Karelina says.
Instead, she should "opt for lighter, non-damaging extensions," she continues, "or a simple clip-in that can be taken out often to relieve the pressure on the hair follicles and the scalp."