What Split Rumors? Justin Timberlake & Jessica Biel Reunite For Quality Time In Canada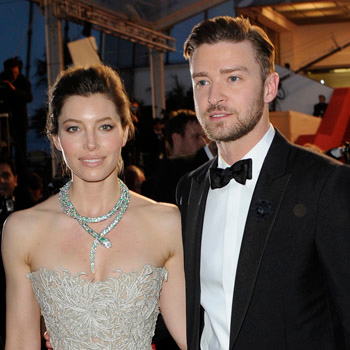 Justin Timberlake and Jessica Biel haven't been photographed together for more than two months, as rumors of a breakup continue to grow. But behind the scenes, it seems, their marriage is as strong as ever. The couple reunited for some quality time during the recent Canadian leg of Timberlake's "The 20/20 Experience World Tour."
On Monday, January 13, Biel and Timberlake were spotted sweating it out together at the Fairmont Hotel MacDonald gym, according to one Twitter user. "Went to workout …" local Kaylan Pepin claimed. "Realized Justin Timberlake was at the weights & Jessica Biel was on the treadmill beside us!"
Article continues below advertisement
The day before, Biel had been spotted solo, grabbing a "tall black" coffee from Transcend Coffee Garneau, owner and founder Poul Mark told Canada's Global News. Biel happily tweeted about being "hopped up" on the brew.
After grabbing her caffeine fix, she browsed shops on local thoroughfare, Whtye Ave., while wearing a baggy sweater and puffer coat, before her husband's concert that night. Though no sightings of her at the show surfaced, she was pictured sitting in the sound mixing area, baseball hat pulled low on her head, at the Tuesday night show, also in Edmonton.
But by Wednesday, Biel was in NYC with stylist Estee Stanley. Timberlake, meanwhile, continued on to Vancouver, where his concert attire did not include a wedding ring.
Split rumors ran wild after Biel skipped attending the American Music Awards, Timberlake's appearance on Saturday Night Live, and the People's Choice Awards with her husband.