Exclusive
Leaked Email: Justin Timberlake's Business Associate Uses Racist Slurs 'Chink' & 'Dothead' Over New York Real Estate Deal, Claims Former Pal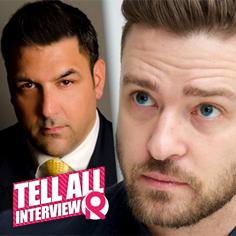 Justin Timberlake might want to re-think some of his future business deals with James Famularo.
A former pal of the Manhattan commercial and retail broker, Dean Ross, exclusively tells RadarOnline.com that the man who helped lock down Timberlake's NYC location for this Southern Hospitality restaurant has a history of using derogatory and racist slurs, and even provided RadarOnline.com with an email in which he slams Asians by calling them "ch*nks."
Article continues below advertisement
Ross also claims that Famularo frequently refers to business partner Ravi Idnani as a "dothead."
In the email obtained by RadarOnline.com, dated Feb. 22, 2013, Famularo is negotiating with Ross — also in New York real estate — over a property.
"Keep that piece of sh*t!" Famularo writes.
"Full of ch*nks in the middle of a crappy block! I promise I'll never ask you for a rent roll! You'll never make money from my efforts again nerd boy!"
"We ceased to stay in contact mainly due to James' erratic behavior," Ross tells RadarOnline.com.
"I have witnessed James refer to his associate and so-called friend Ravi Idnani in ethnically fueled and insensitive ways that are both improper and embarrassing. Both at work and in social settings James would call Ravi "dothead" amongst other non-complimentary terms. It was truly amazing and disgusting."
On Jan. 17, both Famularo and Idnani left their respective brokering firms and joined Eastern Consolidated, one of the industry's most powerful and prestigious firms in NYC.
Article continues below advertisement
"James often bragged about his partying ways and wild ventures with himself and friends," Ross said, noting that he also bragged about his friendship with Timberlake.
"It's shocking to the conscience how disgusting James is as a person both through his actions and his bigotry and racism, yet Justin Timberlake works with him as well as Eastern."
Famularo isn't the only bad news for Timberlake's Southern Hospitality — just last Aug. the barbecue joint was slapped with a 'B' grade by the New York City Department of Health during a routine inspection.
Located in the Hell's Kitchen district of the city, the popular restaurant was docked 22 points by the Department for various violations, which they can challenge and successfully change to be issued a higher grade.
RadarOnline.com reached out to Famularo for comment and got no response.