Exclusive
Got A Booty Like JLo? Casting Call For Jennifer Lopez Movie Stand-In At $10/Hour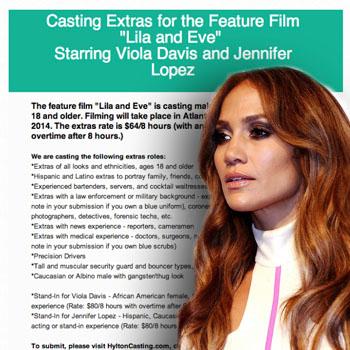 As Jennifer Lopez begins filming her latest flick Lila & Eve, casting directors are searching for a stand-in for the lead actress — but don't expect the big bucks JLo rakes in!
In an official casting email, obtained by RadarOnline.com, producers are looking for female extras to be a substitute for Lopez on the Atlanta movie set for about $10/hr.
"For the feature film Lila & Eve, we are casting the following stand-ins: Jennifer Lopez – Hispanic, Casucasian or Multi-Ethnic female, 5'4-5'6, with previous acting or stand-in experience," the ad reads.
Article continues below advertisement
Per the notice, the stand-in rate is $80 for an eight-hour day, with overtime after eight hours.
In the drama, Lopez – who recently returned to American Idol for a $15 million payday -- and actress Viola Davis play mothers whose sons have been gunned down in a drive-by shooting.
The distraught matriarchs team up for avenge their sons' deaths after local authorities fail to serve justice.
Lila & Eve, directed by Charles Stone II, began filming this week and will continue into 2014.