Exclusive
Hollywood Hillbillies: 'Angry Ginger' & His Grandma Try And Get Famous With David Weintraub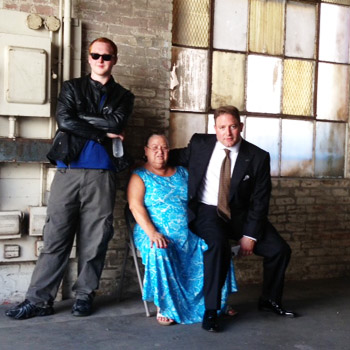 Article continues below advertisement
David moved the hillbilly family to LA to teach them the ins and outs of the entertainment industry and to make Michael "Angry Ginger" Kitrell a star over the 12-episode series premièring tonight on REELZCHANNEL.
"Hollywood Hillbillies is an experience like no other," Weintraub, creator of Sons of Hollywood and a one-time rep of stars like Kristen Cavalari, Paris Hilton, Nicole Richie, Ray J and Scott Disick, bragged.
"For anyone who ever dreamed of making their aspirations come true in Hollywood, this is your show. This series in a non-conventional, rollercoaster of redneck fish out of water good times showing a big loud and big hearted family as they try to make it in the Entertainment business.
"They fail at some things but succeed at others but no matter what, they stay a family in this crazy environment."
Hollywood Hillbillies premieres with two episodes Tuesday, January 21 at 9 pm on REELZCHANNEL.