Exclusive
Inside Hilary Duff's Split: The $500M Fortune At Stake, The Prenup & How She's Still Friends With The Ex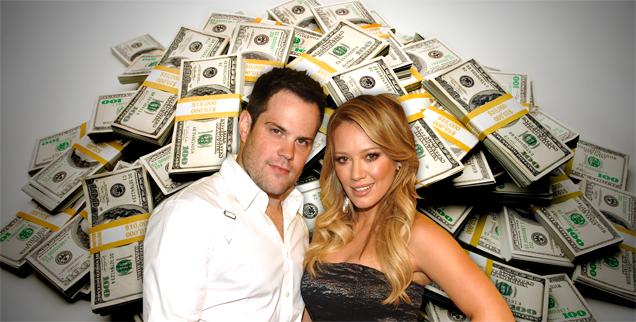 The shocking split of actress Hilary Duff from her hockey hubby Mike Comrie has a lot at stake — to the tune of nearly $500 million, RadarOnline.com has learned.
While Duff was once a Disney darling and is worth an estimated $25 million, it's her Canadian beau and father of their 3-year-old son Luca that has the big bucks at stake, because his family is worth an estimated $500 million!
According to the New York Post's Page Six, the couple signed a prenup so Comrie — a retired NHL hockey player and is worth an estimated $5 million himself — and his family's money is safe.
Article continues below advertisement
"It was a totally amicable agreement," an insider said in 2010.
"They love each other very much and knew this was just a technicality."
Comrie's father, Bill, founded the Canadian furniture and appliance empire The Brick, landing his net worth at a whopping half billion dollars.
The separation comes as a surprise because just two months ago Duff, 26, spoke of having a second child with Comrie, 33.
"If I had another boy, I would be happy," Duff said in Nov. 2013.
"But I would like to try for a girl and I'm not sure that I want to have three kids."
A rep for the pair released a statement on Friday announcing their split saying, "Hilary Duff and husband Mike Comrie have mutually decided to an amicable separation. They remain best friends and will continue to be in each other's lives. They are dedicated to loving and parenting their amazing son, and ask for privacy at this time."
Best friends, indeed. Even on the day their split was announced the two were together.
"Mike and I are sitting here,we are so appreciative for all of your kindness& well wishes," Duff tweeted on Friday afternoon.
"Not an easy day but we're getting thru it together."
After two years of dating Comrie and Duff got engaged and were married on Aug. 14, 2010 in Santa Barbara, California.
"It's absolutely true that they'll remain friends," Duff's mom Susan told RadarOnline.com when reached for comment.