Close Your Eyes, Dad! David Hasselhoff's Daughter Gets Naughty As Miss November In 'Plus Size' Calendar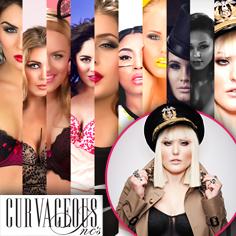 David Hasselhoff's daughter is following in his footsteps by getting half naked for the U.K.'s first curvy calendar and RadarOnline.com has all the photos and details.
Model and actress Hayley Hasselhoff, 21, is featured as Miss November in the Birmingham based Plus Size magazine, Curvaceous Inc's calendar — encouraging curvy women to be more confident about their appearance.
Hayley gets sexy in sheer black lingerie, playfully covered with a tan trench coat.
Article continues below advertisement
"I wanted to do a curvy calendar because I want to show people that being curvy is normal and no matter what size or shape you are, you should embrace it and be proud," Editor in Chief Leanna Grant said.
We have worked with amazing women on this project and we were very excited about working with Hayley Hasselhoff! All the women showcase exactly what Curvaceous Inc is all about; being beautiful, proud and curvaceous!"
As RadarOnline.com previously reported, Hayley was arrested and charged with a DUI just after Christmas 2012 but escaped without serving jail time.
The calendar will be available online this month!