Exclusive
Bridgegate: Feds Could Offer Gov. Chris Christie Ex-Aides Immunity To Testify Against Boss In Criminal Probe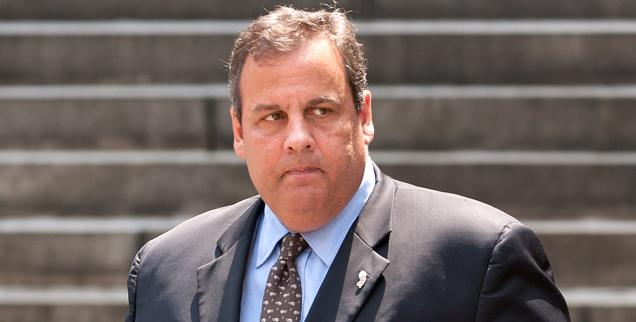 The U.S. attorney in New Jersey would be prepared to offer two of Gov. Chris Christie's aides, fired over the scandal that public officials orchestrated a massive traffic snarl on the busy George Washington Bridge to settle a political score, immunity from criminal prosecution in the event they had incriminating evidence that implicated their ex-boss, RadarOnline.com has exclusively learned.
U.S. Attorney Paul Fishman last week announced his office had opened a probe "to determine whether a federal law was implicated" as a result of the lane closures.
Article continues below advertisement
It was revealed top Christie aide, Bridget Anne Kelly, had e-mailed David Wildstein, who Christie appointed to a high position at the Port Authority of New York and New Jersey, on August 13th last year, telling him: "Time for some traffic problems in Fort Lee."
"Got it," replied Wildstein, who later ordered the closure of two of the three lanes of traffic leading to the George Washington Bridge in Fort Lee.
It was thought to be retribution against Fort Lee's Democratic mayor, Mark Sokolich, who had declined to endorse Christie for re-election.
In the wake of the scandal, Wildstein has repeatedly refused to answer lawmakers questions, invoking his Fifth Amendment right against self-incrimination.
Now, one source close to the probe has revealed to Radar: "The United States Attorney's Office would be more than willing to offer some form of a deal to David Wildstein and/or Bridget Ann Kelly, in exchange for any information that could prove that Governor Christie was involved with the bridge closure."
Article continues below advertisement
Christie, a Republican presidential hopeful, has insisted he knew nothing of the lane closings before they occurred.
"The information (from Wildstein or Kelly) would have to be iron-clad, for a deal to be done," added the source, who spoke on the condition of anonymity because they were not authorized to speak publicly about the matter.
"If Governor Christie was telling the truth at his press conference, he will have nothing to worry about. But there are major doubts in the prosecutor's office because Christie is known as being a micro-manager. What are the odds one of his operatives would just go rogue and order a bridge closure?"
Said another source: "This inquiry is much further along (than people think). It would be fair to call it an investigation."
Among those criminal charges Christie and his former staffers face are federal corruption, misuse of public resources/authority/resources and conspiracy, the insider added.
"There are many different angles being looked at," said the source, who also asked not to be identified.
"The problem for Governor Christie is that he has made a lot of enemies in New Jersey and the GOP isn't stepping up to support him. Look at what happened with then President Bill Clinton was investigated for Blackwater. His relationship with Monica Lewinsky was uncovered. The road ahead for Governor Christie is going to be very rough."
On Monday, it emerged the embattled governor was now facing accusation that he misappropriated funds earmarked for Superstorm Sandy relief, instead using about $2 million for an ad campaign that put him in the spotlight in an election year.
"The matter was referred to our office and is being reviewed," a spokesperson for the U.S. Attroney's Office told us. Calls to Wildstein and Kelly went unanswered.