At Least Someone Loves Her! Brandi Glanville Adopts Adorable Puppy Named 'Luna' From A Homeless Man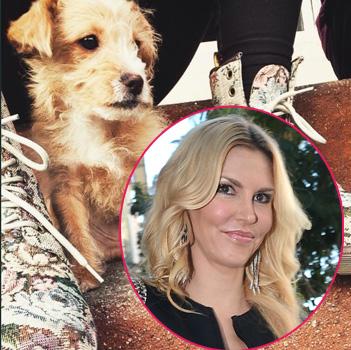 Brandi Glanville's family is getting a little bigger!
The Real Housewives of Beverly Hills star, who lost her beloved dog Chica in 2013, revealed that her new assistant surprised her with an adorable puppy this week.
"How can I not keep her?" Brandi captioned a photo of the adorable canine, named Luna, next to someone's feet.
Glanville's assistant, Shannon McCourt, explained that she acquired the dog from a homeless man.
Article continues below advertisement
"The dog was starving, and the homeless man said he would rather it had a good home than the cold streets," McCourt tweeted. "He couldn't afford to feed her any longer, so I offered to take her."
As RHOBH fans have witnessed this season, Glanville was devastated by the loss of Chica and decided to give her remaining dog Sugar a new pal. She and her sons -- Mason, 10, and Jake, 5 -- adopted Buddy, a Chihuahua mix they adopted from the same shelter. Luna will make for their third puppy.
On Jan. 6, Glanville posted another photo of the new pooch, adding that Luna isn't quite fitting in with the other pets yet.
"Buddy hates her," Glanville wrote, before adding that Luna "is so smart and sweet."