No Slowing Down! Barrett-Jackson Collector Car Auction Posts Record Sales Of $113 Million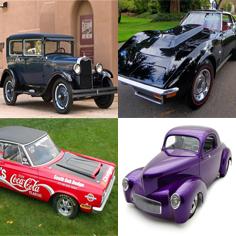 In its' most recent banner show, Barrett-Jackson, The World's Greatest Collector Car Auction, smashed previous records, amassing more than $113 million in gross sales in moving 1,399 vehicles with its' 43rd Annual Scottsdale Auction.
The event was a rousing success, drawing an estimated crowd of 300,000 at Westworld of Scottsdale, leading Craig Jackson, Chairman and CEO of Barrett-Jackson, to tell us in a statement that "this was a huge year.
Article continues below advertisement
"Scottsdale 2014 witnessed an increase in the value of Americana cars as well as the general strengthening of the value of the cars we sold," Jackson said. "We think that this trend will continue throughout 2014 and look forward to these increased numbers at our other 2014 auctions.
"As our brand becomes more global, as our reach enters new media markets and as consignors and bidders engage in our lifestyle events as well as our website, we anticipate strong participation at our upcoming auctions."
Among the famous faces among the record-breaking attendees were current Arizona Diamondback Justin Upton, sports legends Kareem Abdul Jabbar and Reggie Jackson, actor Billy Baldwin and rocker Gene Simmons. Fourteen vehicles were moved for the explicit purpose of charitable donations. Barrett-Jackson president Steve Davis was over-the-moon with glee at the results of the car convention.
Article continues below advertisement
"Our fans and bidders expect the ultimate Barrett-Jackson experience and that is exactly what we delivered," he said. "I am proud to say that once again the Barrett-Jackson team came through for charity including a total of $1 million dollars benefiting the Armed Forces Foundation." In all, the top selling cars were:
1. Lot #5035 $3,850,000 - 1967 Chevrolet Corvette L88 2 Door Coupe
2. Lot #5022 $2,860,000 - 1969 Chevrolet Corvette #57 Rebel Convertible Race Car
3. Lot #5044 $2,090,000 - 1955 Mercedes-Benz 300SL Gullwing Coupe
4. Lot #5080 $1,870,000 - 1998 Ferrari F300
5. Lot #5063 $1,650,000 - 1963 Shelby Cooper Monaco King Cobra
6. Lot #5048 $1,430,000 - 1929 Duesenberg SJ Lebaron Dual Cowl Phaeton
7. Lot #1319.2 $1,375,000 - 2008 Bugatti Veyron 2 Door Coupe (Simon Cowell's)
8. Lot #5066 $1,320,000 - 1954 Plymouth Belmont Concept Car
9. Lot #5053 $997,500 - 1939 Alfa Romeo 6c 2500 Sport Touring
10. Lot #5040-Lot #5043 $990,000 -- 1972 Plymouth Duster Hot Wheels "Mongoose" Funny Car, 1970 Plymouth Barracuda Hot Wheels "Snake" Funny Car, 1967 Dodge D-700 Hot Wheels "Snake" Ramp Truck, 1967 Dodge D-700 Hot Wheels "Mongoose" Ramp Truck
For more information about Barrett-Jackson, check out their website, or call 480-421-6694.