Start Your Engines! Barrett-Jackson Collector Car Auction Vrooms Into Scottsdale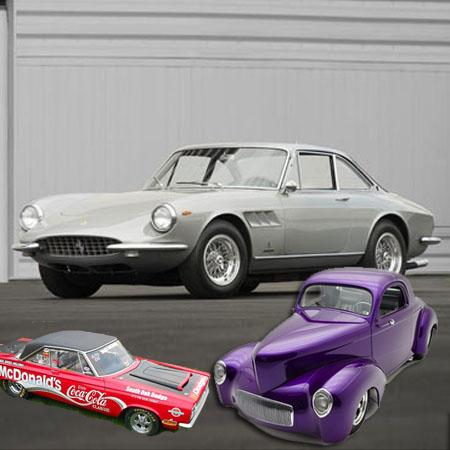 Barrett-Jackson, The World's Greatest Collector Car Auction, has announced the lineup of celebrity-affiliated vehicles that will cross its auction block in Scottsdale, with links to late stars such as Paul Walker, Michael Jackson and James Gandolfini.
In addition, famous faces like Billy Baldwin and Gene Simmons that are scheduled to play, consign or simply relish in the Barrett-Jackson experience.
With the opening night gala only days away on Jan. 13, car aficionados and those with a love to drive are anxious to take part in the lifestyle experience that is at every Barrett-Jackson auction. This year, the company's 43rd Annual Scottsdale Auction will be held Jan. 12-19, for the first time, at the all-new facility at Westworld of Scottsdale, a facility that boasts nearly a million sq. feet of auction facilities, vendors and non-stop entertainment.
Article continues below advertisement
Craig Jackson, Chairman and CEO of Barrett-Jackson, told us in a statement that "more and more, our Scottsdale auction, as well as our other three auctions, are drawing a greater attendance of celebrities as our brand becomes more global, as our reach enters new media markets and as consignors and bidders flock to our lifestyle events and our website.
"The celebrities joining us in Scottsdale for our opening night gala will enjoy a special charity auction hosted by Billy Baldwin and a performance by Bret Michaels. They will have a blast with an exciting week activities and auction items."
Major packages slated for the auction block include: the ultimate 2015 Super Bowl package, with all proceeds benefiting the Carol M. Baldwin Breast Cancer Research Fund; a 1987 Oldsmobile Firenza, Warren Johnson's NHRA Pro Stock Racecar, with all proceeds benefiting the Darrell Gwynn Foundation; two motorcycles belonging to Aerosmith's Steven Tyler; and Rusty Wallace's one-time NASCAR car. (For more info on these and other celebrity related vehicles visit the Scottsdale 2014 Car List at www.barrett-jackson.com.)
"The trust that is given to Barrett-Jackson by our consignors is always humbling," company president Steve Davis said. "Our company has a long-standing tradition of working closely with our consignors. We cherish the relationships we have built with all of our consignors at the pinnacle of their careers and look forward to celebrating with them at this year's Scottsdale auction."
For more information about Barrett-Jackson, check out their website, or call 480-421-6694. To purchase tickets, click here.