Mother-Of-Three Jumps College Football Fan, Punches & Kicks Him In The Head -- Watch The Shocking Footage!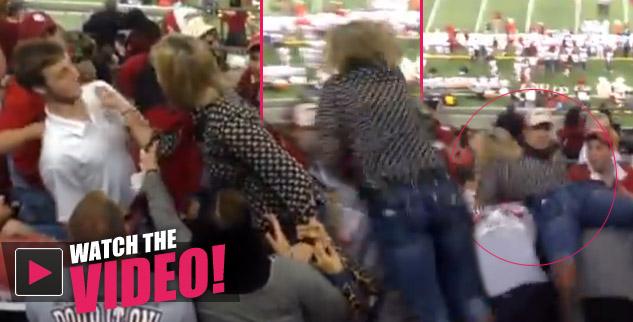 College football games can get intense — especially for student Michael Connolly, who was beat up by a rowdy female fan at the Sugar Bowl after a heated exchange between the rival teams — and RadarOnline.com has the shocking video footage.
The intense footage was shot Thursday night in New Orleans and a woman later described by the victim as a mother-of-three, is clearly an Alabama fan who goes out of her way to pummel Connolly, an Oklahoma student.
Article continues below advertisement
"That lady had 3 kids....they were all bawling afterwords. And then...Bama lost," Connolly tweeted on Friday.
"That, my friends, is how you win at talking sh*t."
The woman in the clip remains unidentified, but Connolly has a sense of humor about the incident.
"Oh and she broke my iPhone. But yeah take off a few kids and a couple years and she'd be sexy," he tweeted.
Speaking to Sports Illustrated's Extra Mustard, Connolly recalled the event — confirming what anyone watching the clip assumed, that the woman had been drinking.
"She was also sitting with her ~five- and seven-year-old daughters, who were little blonde girls. Her ~16-year old son was sitting about five seats away from them," Connolly said.
"When she went up to get a beer, she was kind of talking sh*t to us when she got back. She just kept flicking us off and stuff during the game. A few times, my friend yelled in the direction of her group of 'Bama fans, 'I yell 'Roll Tide' when I eff my cousin,' but since she was the only one standing it seemed like it was directed only at her. At this point, her 16-year-old son, who weighs about 120 pounds, told us to come up and fight him."
Article continues below advertisement
According to Connolly, the woman came down towards their section and began screaming at them, and the camera started rolling.
"She was screaming at me, and sticking her tongue out at me so I asked, 'Are you trying to make out with me?' And my friend was yelling 'Kiss her! Kiss her!'" Connolly said.
"And that's when she walked away, and then jumped me. When she kicked me, it left giant boot marks on my shirt. I'm not sure if the guy restraining her was her husband or not — they weren't sitting right next to each other — but she was kicked out of the game and her two daughters were crying."
Check out the video below to see the unbelievable incident unfold for yourself.
Sidenote: Oklahoma-based attorney, Damario Solomon, has already reached out to Connolly on Twitter encouraging him to file a lawsuit against the woman.
"Would love to represent you against that lunatic! #SueCrazyBamaFan!"
Connolly must be entertaining the idea, but he wrote Solomon back asking him to send a Direct Message.